TMD Inspiration
Kitchen Renovation Inspiration
1350 Beverly Road, Suite 115
PMB 143
McLean, VA 22101
Interested in working with us?
Use the contact form to tell us more about your project. Someone will get back to you within 48 business hours.
Creating inspired interiors for discerning clients since 2003. Accepting clients in DC, Virginia, Maryland, and select cities throughout the United States.
Kitchen Renovation Inspiration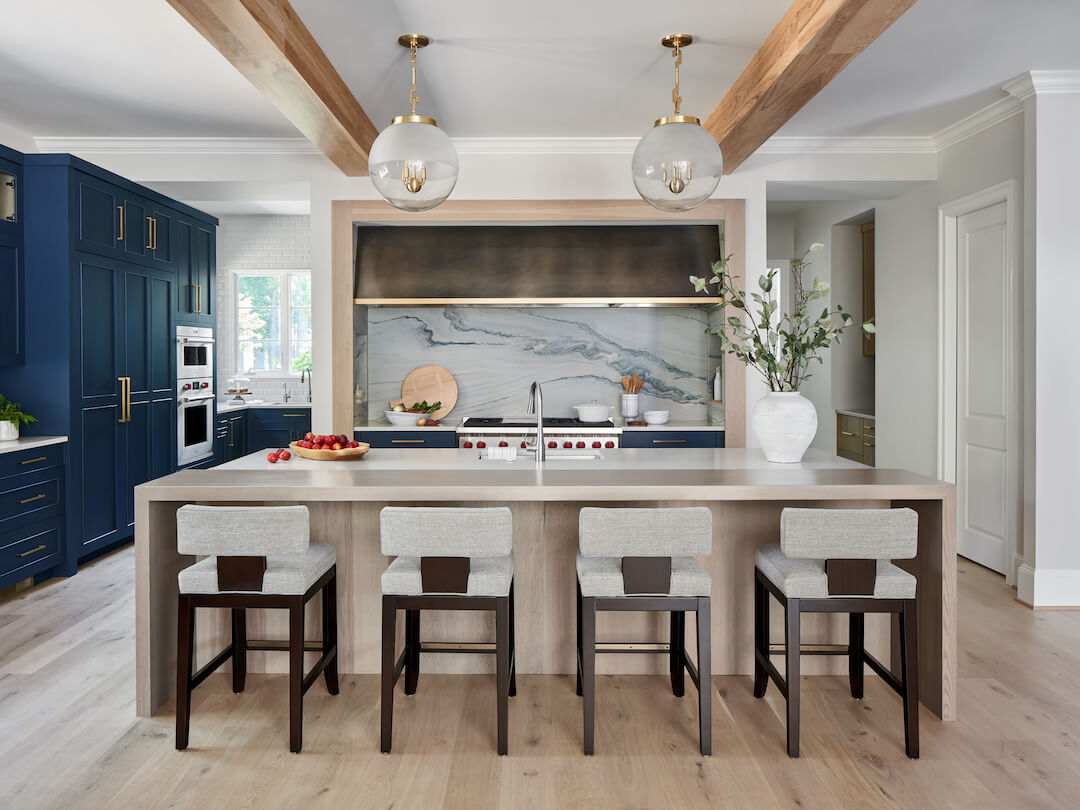 If you are considering a kitchen renovation but need more information or inspiration, look no further. Renovating your kitchen is a big, albeit exciting, step that can transform your home. Whether upgrading outdated appliances, installing sleek new countertops, or creating a stunning kitchen island, the process begins with a vision. Every choice—from the initial vision to choosing the perfect materials—is essential to creating your dream kitchen. Embrace the kitchen renovation process, and keep reading for a compilation of kitchen-related articles to help you jumpstart your kitchen renovation process.
Kitchen Renovation: Cabinets
Cabinets are one of the most important – and obvious – decorating decisions you can make when remodeling your kitchen. Read this article for things to consider when choosing your kitchen cabinets.
Kitchen Countertops
The kitchen is the hub of your home, and your countertops must reflect this. Perhaps the hardest-working surface in your home, they must complement the space as well as your design style and lifestyle. Read this article for questions and tips for deciding on a countertop material.
Kitchen Renovation: Maximizing Your Kitchen Storage
Not enough storage is one of the most common kitchen design problems. Fortunately, keeping a tidy and streamlined kitchen is easy if you employ practical storage solutions. Read this article for ways to maximize your kitchen storage space, such as adding drawers to your kitchen island during a kitchen renovation.
How to Pick the Right Lighting for Your Kitchen Island
As the focal point of any kitchen, the island serves many purposes: extra cooking space, additional storage, and a place for family and friends to gather, to name a few. We expect a lot from our kitchen islands; the lighting above it should reflect these multiple purposes. Read this article to understand better how to choose the perfect lighting for your kitchen island.
Kitchen & Bath Design Trends
If you want to understand what design trends are popular now or see kitchen renovation trends sustained throughout the years, read these articles about 2023 and 2022 trends to garner inspiration for kitchen design.
Inspiration: Timeless Kitchen Design
Finally, be inspired by this McLean, VA kitchen renovation where the clients asked us to redesign their kitchen with the goal of turning it into a large entertaining area for family and friends. After gutting the kitchen, we completely re-imagined the layout. Using a timeless color combination of deep blues and gold, this kitchen quickly became a classic and was featured in Home & Design magazine. Read more about this timeless design here.
If you are planning a kitchen renovation project, I would love to hear about it! Please contact me today.