TMD Inspiration
How to Pick the Right Lighting for Your Kitchen Island
1350 Beverly Road, Suite 115
PMB 143
McLean, VA 22101
Interested in working with us?
Use the contact form to tell us more about your project. Someone will get back to you within 48 business hours.
Creating inspired interiors for discerning clients since 2003. Accepting clients in DC, Virginia, Maryland, and select cities throughout the United States.
How to Pick the Right Lighting for Your Kitchen Island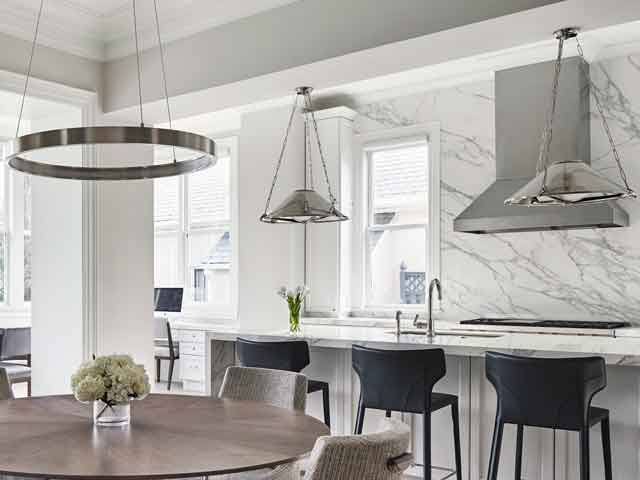 I often say that the kitchen is the heart of the home. And what is the heart of the kitchen? The kitchen island. As the focal point of any kitchen, the island serves many purposes; extra cooking space, additional storage, and a place for family and friends to gather to name a few. We expect a lot from our kitchen islands and the lighting above it should reflect these multiple purposes.
Before we discuss the type of lighting to hang above a kitchen island, we should discuss the three general types of artificial lighting within a home:
Ambient lighting is used to uniformly light up the entire room. The main purpose of ambient lighting is to ensure safe and easy movement within a space.
Task lighting helps to illuminate a specific task, such as reading or cooking. In this case, a brighter light is required in a smaller focal point of the room for these sorts of tasks.
Accent lighting illuminates a specific point of interest, such as a design feature or a collection of objects. In addition. accent lighting helps to give the impression of a larger room.
The optimal lighting for an island will depend on the style, size, and how the space is used. Taking into consideration your lighting needs, here are some popular lighting choices for above your kitchen island:
Decorative pendant lights can be used above an island to help illuminate a particular task being undertaken. They can also become a focal point of the kitchen and help define a space within an open floor plan. To add more versatility, have your pendants on a dimmer switch to set a mood. For pendant lighting, it is recommended t is recommended to install ceiling fixtures 30 to 36 inches from the surface of the kitchen island. When installing multiple fixtures, the widest part of the fixtures should be spaced a minimum of 30 inches apart for optimal airflow, light spread, and visibility.
For a more sophisticated space, consider adding a small chandelier above the island. While an unexpected choice, a chandelier adds texture and shape into a kitchen that is often made of hard surfaces and clean lines. Follow the guidelines above for hanging a chandelier above the island.
Spotlights above the island offer a practical solution as they can provide both task and ambient lighting. Spotlights can be put on a dimmer switch to enable the lighting levels to be adjusted depending on the time of day and how the space is being used.
Finally, it is important to remember that the lighting above your kitchen island is not the only lighting in the space. The fixtures that you choose for the island must work with the lighting elsewhere. For a cohesive scheme, all lighting elements should have a similar shape and finish.
Questions? Please see my article Choosing and Installing the Perfect Lighting in Your Home for more advice.