TMD Inspiration
TMD's Guide to Kitchen Cabinets
1350 Beverly Road, Suite 115
PMB 143
McLean, VA 22101
Interested in working with us?
Use the contact form to tell us more about your project. Someone will get back to you within 48 business hours.
Creating inspired interiors for discerning clients since 2003. Accepting clients in DC, Virginia, Maryland, and select cities throughout the United States.
TMD's Guide to Kitchen Cabinets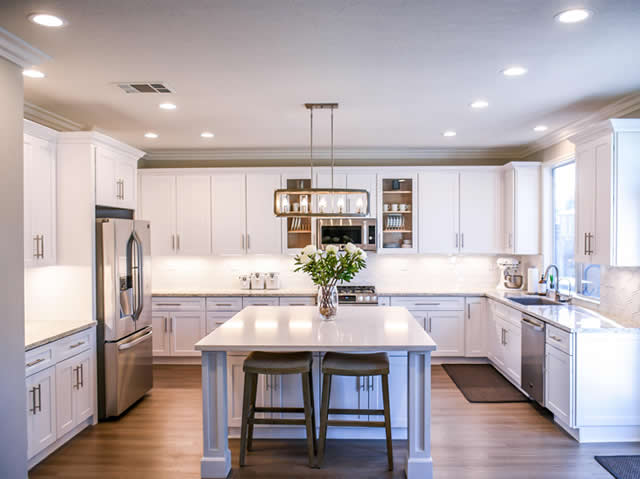 Are you dreaming of an upgrade to your kitchen? Cabinets are one of the most important – and obvious – decorating decisions you can make when remodeling your kitchen. Here are some things to consider when you are choosing your kitchen cabinets:
Consider the overall layout of your kitchen and how you would like it function. To begin, what type of cabinets fit your design? There are four basic types of cabinets: base, wall-mounted, tall, and specialty units. Designing a kitchen is like putting together a puzzle: how do you see these pieces fitting together?
Do you prefer doors or drawers? Base cabinets with drawers allow easy access to dishes, tools, etc. They also help to maximize storage space. If you prefer the look of doors, cabinets can be fitted with a pull-out shelving system.
What is your look? Cabinet doors reflect the style of the homeowner. Here are some of the more popular doors to choose from:
Slab is the most minimalist option, with no panels, molding, or ornamentation. They can have hardware pulls or a simple finger ledge.
Flat Panel is great for a transitional space. The design is simple – a single flat panel surrounded by molding. There are a couple of different looks, including Mission and Shaker, that fall into this category.
Raised Panel is a more traditional in style, these cabinets feature a center panel that appears slightly raised thanks to a grove around the molding.
Beaded Panels mix and match well with other cabinet styles and feature stipes created by a single or double groove (aka bead).
Glass Insert cabinets are great if you want to highlight your dishes. This type of door is a window into the cabinet itself.
Finally, do you prefer painted or stained cabinets? Painted cabinets have a smooth, uniform finish. Stained cabinets allow the wood grain and other unique features to shine through. (Please keep in mind that stain can only be used on natural wood cabinetry). In terms of maintenance, touching-up stained cabinet is relatively easy thanks to tools (i.e. stain markers) available. Painted cabinets can be a bit more difficult to touch-up due to the fact that paint is generally spayed on.
Now that you have selected your kitchen cabinets, read about choosing your kitchen countertops in my article TMD's Guide to Kitchen Countertops.