TMD Inspiration
Kitchen & Bath Design Trends for 2023
1350 Beverly Road, Suite 115
PMB 143
McLean, VA 22101
Interested in working with us?
Use the contact form to tell us more about your project. Someone will get back to you within 48 business hours.
Creating inspired interiors for discerning clients since 2003. Accepting clients in DC, Virginia, Maryland, and select cities throughout the United States.
Kitchen & Bath Design Trends for 2023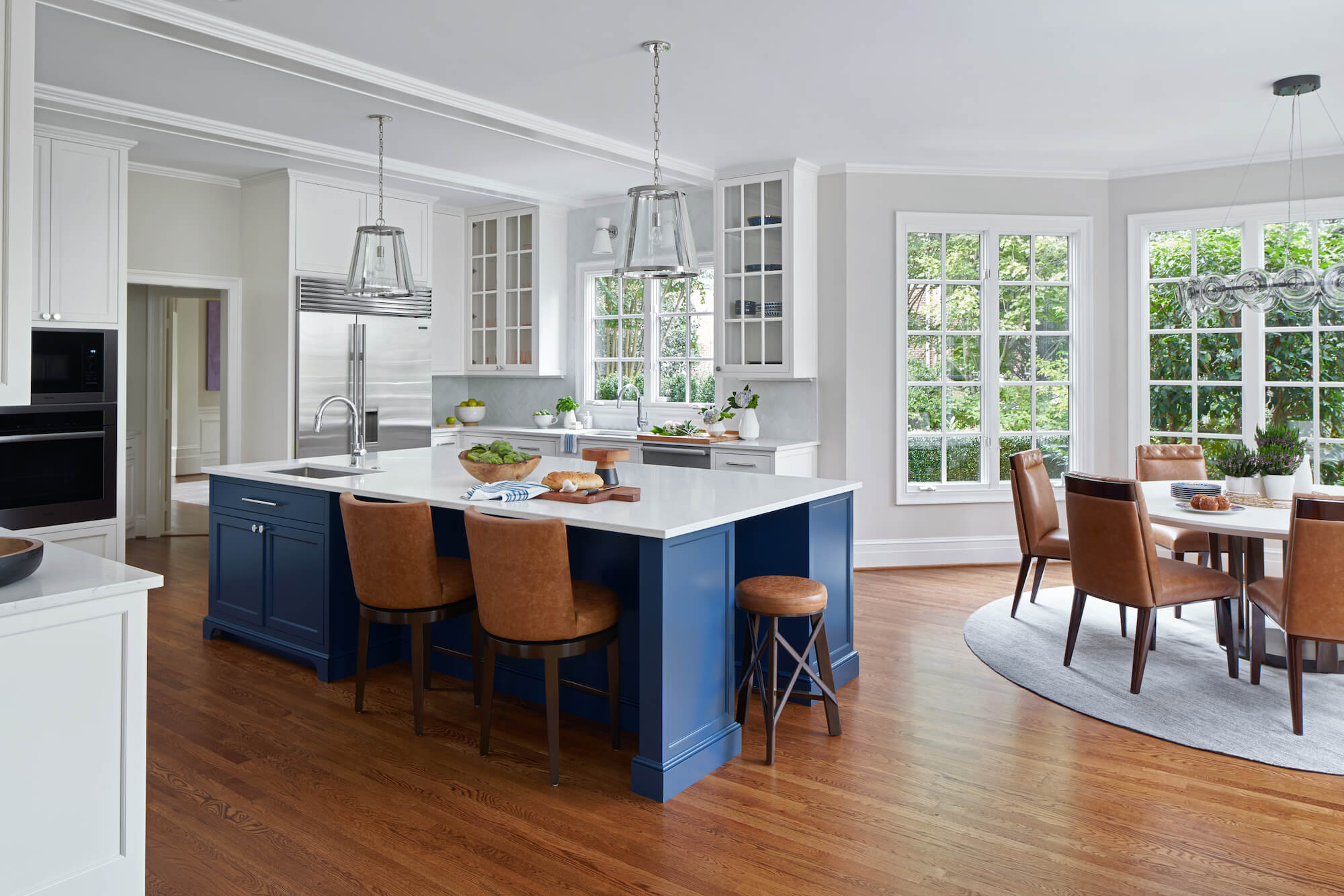 Some of the most important rooms in our homes are the kitchen and bathroom, where every design element—including the layout, cabinetry, and tiles—must work together to produce maximum functionality to keep up with our demanding needs. Then combining function with style is another challenge to match your aesthetic. Here are some kitchen and bathroom design trends for 2023.
Bathroom:
Colors that you will see this coming year in bathroom designs are watery blue tones, such as soothing cool gray-blues inspired by the ocean, as well as cool-toned greens, such as sage or olive. These colors bring calming energy to your space. Other prominent colors you will see this year are blush tones and burgundy. Colors inspired by clay tones, soft pinks, and peachy hues also pair well with bright burgundy colors.
Some important bathroom design textures to see are mixed marble and metal elements. Linens and more woven textures, such as woven bath towels, will also make an appearance. Terrazzo is also gaining popularity, with floors or wall tiles a great statement piece. Shapes trending in bathroom designs are simple, sharp, clean lines that create interest and drama. There is also an increase in popularity with more organic shapes and an emphasis on natural features.
Backlit mirrors are another trend that we are watching. The built-in lighting helps to give off a chic aesthetic. Finally, another display piece is unique bathtubs. An amazing bathtub can make a statement in your bathroom and accentuate your style.
Kitchen:
Similar to bathroom designs, some kitchen colors you will see this coming year are deep blue hues, as well as terracotta clay tones. Green is another great color you will see an increase in, as it is earthy, organic, and compliments many other trending colors. Stark whites, creams, and gray neutrals will also be trending this coming year.
Again, natural materials and shapes that will continue to be popular in bathroom designs will also be seen in the kitchen, such as natural wood cabinets or marble countertops. Wallpaper will be a popular way for homeowners to decorate with these natural and organic themes, with an increase in wallpapered walls expected in 2023. Designs highlighting simplistic lines, such as handleless drawers, will also be used more.
Popular features that will accentuate these kitchen trends will be statement hoods, as they add luxury while also providing a great place to showcase simplistic and organic shapes. Open shelving will continue to be popular as they offer an eye-catching style while promoting minimalism. Kitchen backsplashes will also be a way to showcase style with tiled kitchen backsplashes that make a statement on the rise in 2023.
If you are planning a kitchen or bathroom project in the new year, I would love to hear about it! Please contact me today.