TMD Inspiration
1350 Beverly Road, Suite 115
PMB 143
McLean, VA 22101
Interested in working with us?
Use the contact form to tell us more about your project. Someone will get back to you within 48 business hours.
Creating inspired interiors for discerning clients since 2003. Accepting clients in DC, Virginia, Maryland, and select cities throughout the United States.
Kitchen Trends for 2022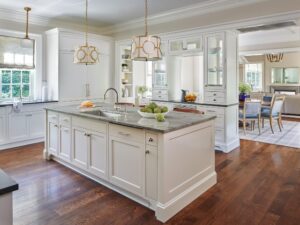 The kitchen is the heart of the home, where everyday life and entertaining friends and family converge. As the restrictions from the pandemic continue to lift, research reveals that seven out of ten Americans will continue to enjoy cooking and eating more meals at home. Whether building a custom kitchen in a new or existing home, many homeowners are looking to upgrade their kitchen space. Here are some of the kitchen design trends that I am watching for the upcoming year:
Custom Seating
Never underestimate the power of banquette seating! If you have a smaller eating area, banquettes are super helpful to allow many people to gather at the table since you are not restricted by the width of a chair. When not used as meal seating, the space can be used to either read, converse, or work. In addition, consider using leather or an outdoor-rated fabric on the banquette seat. This will allow you to feed the family without fear of stains.
Add a Twist
Consider adding furniture-inspired cabinets or a focal piece to your kitchen. Inset cabinets, meaning that they have a frame around the door, can make these essential components to any kitchen appear more furniture-like. Also, keep in mind that the right piece can be repurposed to become a focal point of the kitchen. For example, in a recent project where I needed to separate the kitchen from the breakfast area, we teamed up with the architect building the home to create a custom piece that allowed for the separation of space and additional storage while allowing natural light to stream through the top portion, which was open glass. It was a beautiful piece custom-made for an amazing kitchen.
Storage, Storage, and More Storage
During the pandemic, homeowners have taken kitchen storage to the next level. Many are looking for custom walk-in pantries with multilevel shelving and dedicated storage. But storage goes beyond the pantry. For example, I often recommend that my clients install two refrigerators in their kitchen. It may seem like overkill, but I have learned over my career that you can never have too much storage space.
Mixing Metals
I often get asked if it is okay to mix metals in the kitchen. Between lighting, appliances, hardware, and faucets, the kitchen can be a mixed metal dream (or nightmare!). Layering materials such as chrome, brass, nickel, or bronze can help make an ordinary space feel more luxurious. However, there are some basic guidelines to follow when mixing metals. Please see my recent article Design Trend: Mixing Metals for advice and tips on creating a beautiful space with unique touches.
The Importance of Color
One of the critical components of any space—but especially the kitchen—is color. Selecting the perfect color of tile or countertop is essential to creating a cohesive space. My suggestion is to start with what you would like the cabinet color to be. Many homeowners prefer a saturated color for their cabinetry that can easily be carried across the entire kitchen. Alternatively, the kitchen island or molding around the room's perimeter can be the area of saturated color, which then allows for a lighter color to bleed through. Please see my video to learn more or reach out if you have any questions.