TMD Inspiration
Creating an Outdoor Living Space for Hosting
1350 Beverly Road, Suite 115
PMB 143
McLean, VA 22101
Interested in working with us?
Use the contact form to tell us more about your project. Someone will get back to you within 48 business hours.
Creating inspired interiors for discerning clients since 2003. Accepting clients in DC, Virginia, Maryland, and select cities throughout the United States.
Creating an Outdoor Living Space for Hosting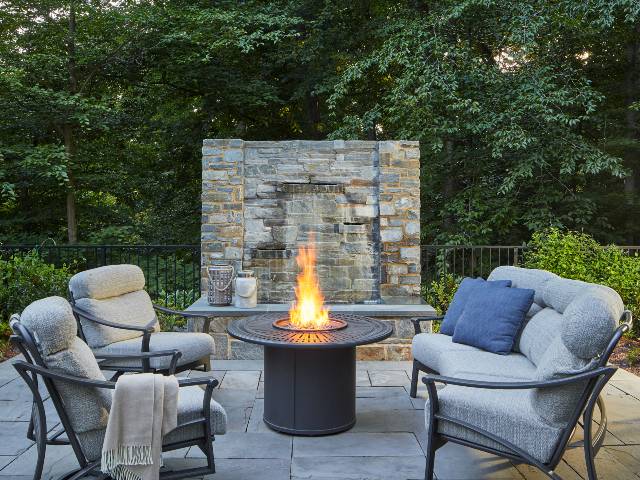 Bringing elements of the outdoors inside is an effective design trend for bringing warmth and nature into your home. However, bringing elements of your indoor space outside for entertaining is slightly more tricky. An outdoor living space has to provide the conveniences and aesthetics of an indoor space while also being well-equipped for the weather and other outdoor concerns. Keep reading for four design and hosting tips for creating an outdoor living space perfect for hosting.
1. Layout and Zoning:
The first tip for creating an outdoor space for hosting is creating a suitable layout and setting up your outdoor living space to encourage socialization. While selecting furniture that is durable for outdoor use is essential, choosing modular furniture can be great for creating seating arrangements that work for every event you host. Dividing your space can also help create zones for certain activities, such as conversational or food-focused areas. You can do this by using plants as a natural barrier or using different flooring, such as pebbles around the fire pit area and slate near the grilling area. Walk around your space: Do existing pathways feel natural, or are additional paths necessary to connect areas? Natural paths of stone, brick, or tile can make a simple element into a charming and unique touch in your space.
2. Cohesion:
The best way to make sure your guests feel comfortable is to create a connection between your indoor style and outdoor areas. Follow the same interior design scheme as your indoor spaces when deciding how to decorate your outdoor space. The easiest way to create a strong connection is through color. Whether through furniture, landscaping, or decor, playing on similar color palettes as your home will make your outdoor living space feel like an extension of your home.
3. Lighting:
When creating the perfect hosting backyard, finding the proper lighting is essential. As in indoor spaces, various outdoor lighting options can be used for different purposes throughout your outdoor space. Hanging string lights over a patio, a candle chandelier from a tree branch, or stringing lanterns along a pathway can easily create a dreamy and romantic feel. Opting for citronella candles can provide light while keeping bugs away from your guests. Hanging pendant lamps or sconces offer a more durable and permanent option. It's equally important to block natural light by installing sunshades or umbrellas to protect your guests from sun rays during daytime parties.
4. Prepare for Dining:
Make it simple for guests to eat and drink outside, regardless of the sort of party you're throwing. Ensure your grill and other outdoor equipment is up to date and working. A bar cart dedicated to outdoor events that can serve as a dedicated drink and food station can make guests feel more comfortable. Also, ensure you have adequate room
to showcase food and beverages—and that your visitors have somewhere to set their plates while mingling or to sit and eat comfortably.
Are you looking for more hosting tips? See my articles Tips for Outdoor Entertaining and Creating a Backyard Retreat for more information.