TMD Inspiration
Creating a Backyard Retreat
1350 Beverly Road, Suite 115
PMB 143
McLean, VA 22101
Interested in working with us?
Use the contact form to tell us more about your project. Someone will get back to you within 48 business hours.
Creating inspired interiors for discerning clients since 2003. Accepting clients in DC, Virginia, Maryland, and select cities throughout the United States.
Creating a Backyard Retreat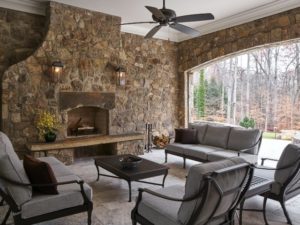 With so many activities happening in our homes these days, many of us are looking for a little bit of extra space. Luckily, with warm days approaching, many of us can turn our outdoor space into extra living space. As you contemplate ways to improve your outdoor area, think about projects that can both extend the hours you spend outside and make the time you spend there more relaxing.
Here are some ideas:
Cool things off. Summers in the DC metro are notoriously hot and humid. However, a strategically placed ceiling fan or mister in your favorite sitting area can cool things off. Awnings and umbrellas also play a huge role in regulating the temperature and comfort of your outdoor living space. Pergolas and arbors are excellent ways to add shade while also keeping outdoor spaces shielded from top-floor windows as well.
Bug control. Decks and patios are meant to be welcoming … but not necissarily to bugs and other pests. In order to fight the ongoing battle with mother nature, keep outdoor living areas clean and free from standing water. Add bird houses to your garden – birds are a natural predator of many bugs and having them around is a form of natural bug control.
Enjoy cooking. No outdoor space is complete without a grill. However, do you find yourself going in and out of the house while you are preparing a meal? You can make meal prep much easier by installing an outdoor kitchen, complete with a prep area, outdoor sink, and small refrigerator for the essentials.
Built for entertaining. Design your outdoor living space just like your indoor space – with plenty of seating and conversation areas for guests. Keep furniture on the lighter side so that you can quickly and easily move it around to accommodate different-size crowds.
Add some music. Upgrade your digital music system so it can be used outdoors. Add some well-placed speakers can help to bring the sound of your favorite music outside.
Upgrade your lighting. Patio entertaining calls for a little subtlety when it comes to lighting. Consider adding zero-energy solar-powered fixtures around the perimeter of your patio for a gentle ambiance to light up your evenings. Add overhead fairy lights to create a bit of magic.
An escape for one. When designing your outdoor space, don't forget to create an area of escape for yourself. Outdoor drapery panels aren't just pretty, they're also practical. Hanging planters, staggered at different heights, can help to create a private area. Add a hammock or cozy outdoor chair, and you can hide away for hours on end.
Are you looking for further inspiration to refresh your outdoor living spaces for the summer months? Enjoy our articles Outdoor Living: the Best Bang for Your Buck and The Front Porch: An Extension of Your Home.