TMD Inspiration
Tips for Outdoor Entertaining
1350 Beverly Road, Suite 115
PMB 143
McLean, VA 22101
Interested in working with us?
Use the contact form to tell us more about your project. Someone will get back to you within 48 business hours.
Creating inspired interiors for discerning clients since 2003. Accepting clients in DC, Virginia, Maryland, and select cities throughout the United States.
Tips for Outdoor Entertaining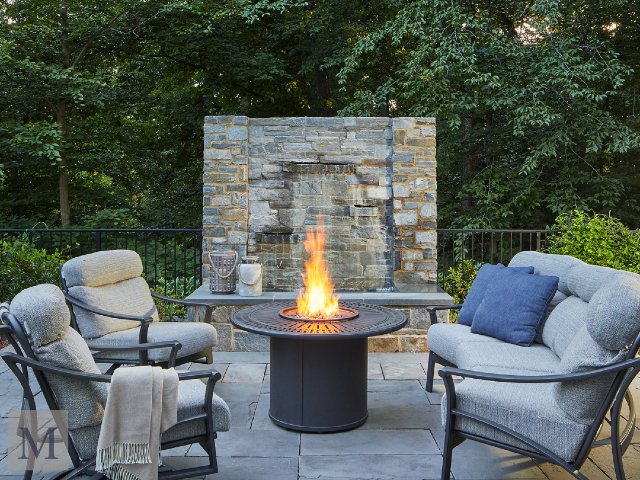 With summer in full swing, spending time with family and friends will likely be held outside, enjoying the warmer weather and the longer daylight hours. Hosting outdoors can be a great way to keep the inside of the house clean and be a lot more casual of an event. Create a festive atmosphere to keep your soiree stress free and allow your guests to feel comfortable, giving you more time to relax and enjoy the fresh air. Here are some tips to keep things easy and effortless.
Understand Your Event
Understanding the event you are throwing is crucial for creating a simple setup. Think about the number of guests; are there a couple of family members coming for dinner or a big birthday bash? Will this be a sit-down meal, or are just snacks needed? Knowing the type of celebration will help you to prepare if the guests need to be seated and have food plated or if it is more casual without as much prep required. Setting aside a separate table for food or an outdoor bar can be a helpful hack to avoid clutter at the dinner table.
Prioritize Comfort
Remember to focus on the basics and to prioritize comfort. Make sure there are cozy cushions on chairs and arrange chairs to create distinct sitting places for either more personal chats or a sit-down meal. Factoring in kids or teenagers who may appreciate having their own seating might help relieve stress if you don't think everyone will fit in one place. Adirondack chairs are a great outdoor option as their wide arms can hold plates or drinks. Utilize rugs and throw blankets to define spaces to create a homey atmosphere.
Keep Food Simple
When hosting outdoors, it's important to keep the food simple, so you don't have to run inside and outside all night. Make sure there are a lot of uninvolved starters such as cheese and crackers or fresh-cut veggies and hummus to alleviate any anxiety. Consider making your event a potluck or encourage self-service to relieve even more stress. Grilling is an easy way to serve large quantities of food while still being able to make conversation with your guests.
Purposeful Plastic
Another aspect to make outdoor entertaining easier is using plastic to create a quicker cleanup and prevent breaking glass. This can be seen with plastic tumblers for guests, drink dispensers or ice buckets, as well as utensils. Other single-use utensils such as wooden cutlery can look chicer while still being environmentally friendly.
Function over Fashion
Lastly, prioritize function over fashion by repurposing indoor items for outdoor use. For example, mismatched seating options can produce a welcoming vibe. Or using candles and putting flowers in a decorative serving dish as a stunning centerpiece. You can even use an overturned mesh strainer over the food to keep out bugs. See my article Creating a Backyard Retreat for more ideas on how to make your outdoor spaces relaxing and enjoyable.