TMD Inspiration
What to Do with Unused Basement Space?
1350 Beverly Road, Suite 115
PMB 143
McLean, VA 22101
Interested in working with us?
Use the contact form to tell us more about your project. Someone will get back to you within 48 business hours.
Creating inspired interiors for discerning clients since 2003. Accepting clients in DC, Virginia, Maryland, and select cities throughout the United States.
What to Do with Unused Basement Space?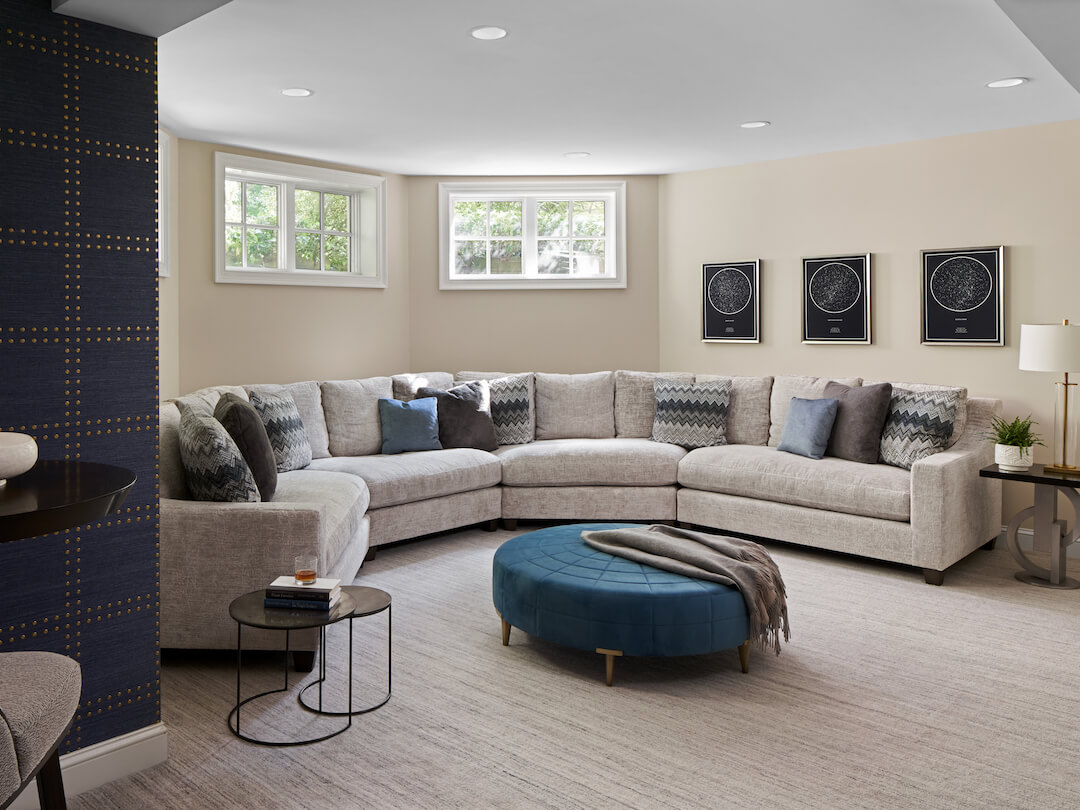 While your basement might be a dark abyss in your home, filled with storage, laundry, or neglected exercise equipment needing some TLC, it doesn't have to be. Undergoing a basement remodel can transform your space and change your basement from being underutilized to a valuable and functional area in your home. Creating a more effective and finished basement space can raise the value of your home and breathe new life into your home.
In this article, we are excited to share how design principles and creative ideas can be harnessed in your basement remodel. I love basements' potential to adapt to whatever you need most in your home, whether that be a home gym, an office space, a laundry room, or a spare bedroom. Or you can even choose multiple options with a suitable layout and design to get the most out of your space. Please keep reading for basement remodel ideas and what to do with your unused basement space based on previous design projects we have done.
Basement Remodel Idea #1: Family-Friendly
Family-friendly spaces are perfect for basement remodels, as seen in this Langley Forest, McLean, VA home. This client wanted to maximize the space in the home for their active, growing family. Using materials that can withstand wear and tear and a transitional design style, we created the perfect family room with plenty of comfy lounge space and a home bar.
Remodel Idea #2: Fun and Entertainment
In this Woodlea Mill, McLean, VA home, there was a focus on fun and entertainment throughout this basement remodel. This couple wanted to marry clean-lined and tailored pieces with soft and enveloping pieces. We created this basement with a guest suite for a luxurious and restful retreat for overnight guests, a game room, and a dedicated movie-watching area.
Remodel Idea #3: Gym and Office Space
When this busy family of four moved into a new home in Del Ray, Alexandria, VA, they wanted to focus on functionality in their space. The garage was one of the main areas we transformed, adding a home office space with built-in shelving and storage and a fully equipped home gym. As garage spaces can be similar to basements in their versatility, garner inspiration from this renovation to create a home office space, home gym (or both!) for your basement remodel.
If you are thinking about undergoing a basement remodel, feel free to peruse our projects page to understand better the type of work we do and to see what style speaks to you. We would love to hear your ideas for how to revive your underground space. Please don't hesitate to reach out!