TMD Inspiration
Working with a Designer Throughout the Construction Process
1350 Beverly Road, Suite 115
PMB 143
McLean, VA 22101
Interested in working with us?
Use the contact form to tell us more about your project. Someone will get back to you within 48 business hours.
Creating inspired interiors for discerning clients since 2003. Accepting clients in DC, Virginia, Maryland, and select cities throughout the United States.
Working with a Designer Throughout the Construction Process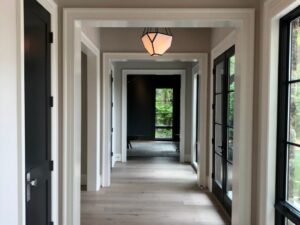 The role of the interior designer is changing. Gone are the days when homeowners hired a designer to add the finishing touches to a room once the building process was complete. Today, designers are taking a seat at the planning table to collaborate from the beginning to the end of the home design process. An interior designer can be both a trusted advisor and an advocate.
As a construction-minded interior designer, I feel that my unique skills set me apart from other designers. I have built ongoing relationships with architects and builders throughout the DC metro area and across the nation. I find that, by taking a team approach, the process of designing your dream home goes much more smoothly, and our clients are much happier with the finished product.
I enjoy working with homeowners, architects, and builders to choose the "bones" and layout of their home. I find that the moldings and light fixtures that a client selects are just as important as the wall colors and accessories. This early collaboration is helpful in all aspects of homebuilding, including the placing of plumbing and electrical outlets, integrating sound systems, and customizing storage areas such as the kitchen pantry and walk-in closets. At the early planning stages, designers can work hand-in-hand with architects to make sure that environmentally sound and healthy living elements are incorporated into the home's overall plan as well. (Please see my recent article Sustainable Design: Trends to Watch for more details.)
Another benefit of working with a designer from the onset of a project is that we carefully watch industry trends and can easily incorporate those into the original floor plan. For example, aging in place is a trend that we are closely following as we see the formation of more multi-generational households due to the Covid-19 pandemic. Sometimes referred to as "silver architecture," aging in place aims to make home design sustainable, modern, and, most importantly, accommodating to the home's occupants. When discussing silver architecture, we are considering elements such as low-glare lighting, sound-absorbing walls and ceiling tiles, furniture that provides extra support for getting up and down, soft flooring in case of falls, the use of solids and simple patterns on furniture upholstery for both comfort and visual clarity. (Please see my recent article Aging in Place for more details.)
Finally, due to my decades of experience working with architects and builders, I understand and speak the language of homebuilding. With an intricate understanding of the construction process, I can help plan ahead to avoid added financial costs and time delays, making sure that each and every item for the project is ordered and delivered to the worksite on time. If an item needs to be reordered or replaced, I am on-site to make sure that the process goes as smoothly as possible.
Are you looking for a construction-minded designer who will be there for every step in the home building and design process? Please contact me today to discuss your next project.