TMD Inspiration
Your Design Project: Where to Invest and Where to Save
1350 Beverly Road, Suite 115
PMB 143
McLean, VA 22101
Interested in working with us?
Use the contact form to tell us more about your project. Someone will get back to you within 48 business hours.
Creating inspired interiors for discerning clients since 2003. Accepting clients in DC, Virginia, Maryland, and select cities throughout the United States.
Your Design Project: Where to Invest and Where to Save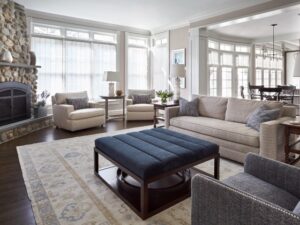 Budgeting for a design project can be a balancing act; how do you reconcile your needs and your wants? I recommend that you splurge on main living spaces and areas that get heavy daily use by the entire family and save on secondary spaces. Here are some other suggestions:
Invest in Upholstered Seating
If you don't want to have to replace your upholstered seating in several years, splurge to get a well-constructed piece that will stay comfortable for years to come. A piece's cushion filling and construction are just as important as its appearance; look for performance fabrics like Perennials solution dyed acrylic so it will stand up to use and resist staining. See my article Furniture 101: What is Inside Matters, I discuss things to consider when shopping for an upholstered piece.
Save on Tables
End tables and coffee tables need to be functional, not necessarily the feature of a living space. Look for pieces that can be easily rearranged; for example, if your living room serves primarily as a place to entertain, you may want to purchase end tables that can be easily moved to accommodate guests. A simple coffee table can double as a play table or a learn-from-home desk for a young child.
Invest in Kitchen Cabinets and Countertops
A kitchen remodel is perennially at the top of the list of renovations that incur the highest return on investment (ROI). For this reason, choose hard-wearing, well-constructed kitchen cabinets that will stand the test of time. Real wood cabinets can easily be refinished or repainted as desired. The same thing holds when choosing kitchen countertops – invest in a quality material that will last such as quartz, marble, or a butcher block that has been properly treated. See my articles about how to choose kitchen cabinets and countertops.
Save on the Backsplash
A simple, porcelain tile arranged in an interesting pattern (such as basket weave or chevron) with a thoughtfully chosen grout color can be a simple, affordable option for any kitchen.
Invest in a Cozy, Comfortable Bed
A cozy and comfortable bed can be a real luxury. Splurge on a bed frame that will properly support your mattress and a headboard that can double as a focal point for the entire room. See my article Making the Perfect Bed for what to add to make the perfect, hotel-worthy bed.
Save on the Nightstand
Like end tables (as mentioned above), a nightstand is a functional piece of furniture. A simple, inexpensive rectangular nightstand is all that you need.
Invest in Custom Window Treatments
Though often overlooked, nothing completes a room like the perfect window treatment. Just like any other design element in your home, you should first ask yourself what you would like the window treatment to accomplish. Whether you opt for custom draperies or Roman shades, splurge on having our window treatments custom made to ensure a correct fit for a sophisticated presentation.
Save on Accessories
Keep an eye out for deals on pillows, blankets, picture frames, and other accents to update your look with minimal investment.
For more suggestions, please see my previous article Home Design: Where to Splurge and Where to Save.