TMD Inspiration
What Does Your Front Door Say About Your Home?
1350 Beverly Road, Suite 115
PMB 143
McLean, VA 22101
Interested in working with us?
Use the contact form to tell us more about your project. Someone will get back to you within 48 business hours.
Creating inspired interiors for discerning clients since 2003. Accepting clients in DC, Virginia, Maryland, and select cities throughout the United States.
What Does Your Front Door Say About Your Home?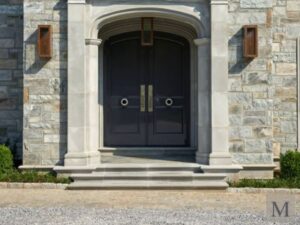 What feeling does your front door evoke as you approach your home? Is it welcoming, calming, or does it just need a fresh coat of paint? Regardless of your current front door situation, you can always transform your entrance into something that welcomes your home. Your front door plays an enormous role in your home's first impression and can add to the value of your home while enhancing your curb appeal. Here are some things to consider when choosing the front door for your home.
Styles of Doors
With such a wide variety of door styles available, finding a style to fit your aesthetic and personality is easy. Here are some types to consider:
Glass Door: Solid glass front doors are a great choice that allows a large amount of natural light to enter the home. They also can make a bold statement and complement a modern-style house.
Doors with Glass Panels: If you like the benefits of a glass door but are looking for more privacy, a door with glass panels is a great choice. These doors also provide excellent insulation, helping to save on energy costs. With various panel shapes and patterns available, this door style works for any home.
Double Doors: Double doors demand attention and can significantly impact the home's curb appeal. They also allow more space to move in and out of the house, which works well for individuals with movement challenges. Double doors can be found in a variety of materials and finishes, adding an elegant touch to the home.
Solid Wood Door: If you are looking for a sturdy and secure door, a solid wood door is a great choice. It is easy to change the look of a wood front door with paint or stain, which can transform your home's entryway and overall look. This is a great choice for any home style, but it does require regular upkeep to maintain its look and finish.
Once you have decided on a style of front door, there are numerous ways to update the front entrance of the home. Here are some suggestions:
Painting is the number one way to spruce up your entrance. Consider using high gloss paint to make your door feel extra special. And don't be afraid to go bold; red and yellow are popular colors.
Updating the lighting and door hardware is a great way to give your entrance a facelift. Add a personal touch with unique house numbers and a new mailbox.
A thoughtfully chosen container for flowers or plants can go a long way in enhancing your entryway. Choose containers that complement the home's architecture in a material that adds interest. For example, choose simple metal containers for a classic Colonial-style home.
Outdoor living areas such as the front porch have become popular gathering spots. See my article The Front Porch: An Extension of Your Home for tips on things to consider when decorating the entryway into your home.