TMD Inspiration
1350 Beverly Road, Suite 115
PMB 143
McLean, VA 22101
Interested in working with us?
Use the contact form to tell us more about your project. Someone will get back to you within 48 business hours.
Creating inspired interiors for discerning clients since 2003. Accepting clients in DC, Virginia, Maryland, and select cities throughout the United States.
Wallpaper: The New Paint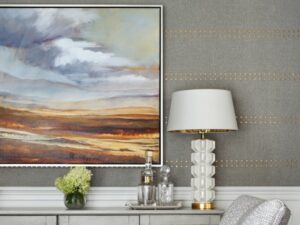 Paint isn't the only way to add a personal touch to your living spaces. For the past 500 years, wallpaper has been used in both the wealthiest and poorest homes as a statement of design and personality. By the beginning of the 20th century, wallpaper was being used everywhere; in hallways, kitchens, bathrooms, and bedrooms as well as reception rooms. Today, decorating with wallpaper is a versatile way to play with color, pattern, and texture. With traditional wallpaper, there are endless options. Here are some ways you can incorporate wallpaper into your home design.
1. Wallpaper may not be the first finish you think of when designing a bathroom, but is it a fantastic way to add a bit of interest to an often-overlooked space. I love doing a fun wallpaper in a powder room, and since it is a small space you can go with something a bit bolder. If you are considering putting wallpaper up in a full bath, vinyl wallpaper is the way to go.
2. Many people use wallpaper for an accent wall in their living space to add a bit of texture. Textured wallpaper adds an extra layer that creates more interest by adding a sense of depth. One such example is grasscloth, which replicates natural fibers. Textured wallpaper usually blends nicely with any overall color scheme in the room.
3. A very unique way to use wallpaper is on the ceiling. Once again, this is a great way to add color, pattern, or texture to any room in a less-conventional way. A couple of words of caution: make sure that the ceiling is smooth (no popcorn!) and structurally sound and that you ensure it can be taken down easily in the future.
4. If you have an eye for design and a plan, you can create your own wallpaper. Turn your favorite image into custom wallpaper or a larger-than-life wall mural. Your customized design can then be printed on a variety of materials, ranging from eco-friendly to vinyl.
5. If you are not yet ready to commit to wallpaper, you can opt for wall coverings. With so many fun designs, you can go with a bold graphic print or a subtle texture to create whatever feel you want. Added bonus: these are essentially large decals, so you can easily take them down if you want to change the look of the room.
No matter if you go with traditional wallpaper or fun decals, you must keep your walls clean. The best way to do this is to keep wear and tear to a minimum and clean regularly.
For more suggestions about designing with wallpaper, as well as maintenance, please contact me today.