TMD Inspiration
Tracy's Guide to Windows and Doors
1350 Beverly Road, Suite 115
PMB 143
McLean, VA 22101
Interested in working with us?
Use the contact form to tell us more about your project. Someone will get back to you within 48 business hours.
Creating inspired interiors for discerning clients since 2003. Accepting clients in DC, Virginia, Maryland, and select cities throughout the United States.
Tracy's Guide to Windows and Doors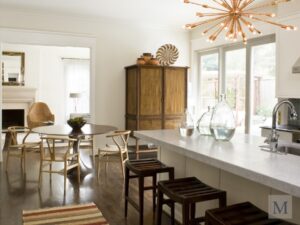 The style of windows and doors you choose add the finishing touch and character to your home. While some styles may be considered on-trend (such as the Farmhouse style currently popular) other styles are timeless. When choosing windows and doors, you need to consider the same elements as any other design project; these include overall style, finish, function, shape, and composition. In this article, I will offer some guidance on picking your windows and doors.
Window Options
All homes have an architectural design style that makes them unique. Whether your home is a Craftsman, Colonial, or modern style, begin by choosing windows to reflect the style.
Casement windows are one of the most popular styles. They swing out to the side or up to open, which allows the window to be constructed of solid glass and offers a less obstructed view overall.
If you are looking for a more unique feel, Jalousie windows are a great choice. A Jalousie window splits into many different slats of metal or glass. To give you a better idea, the windows open more like a set of blinds. When you simply crank the lever, the slats tilt to the side, which creates a series of gaps for air to flow through.
Want to keep it simple? Sliding windows are a great option! They have two sections that are usually made from single windows, and one of the sections slides horizontally overtop of the other to open or close. It doesn't get any simpler than that.
If you want to make more of your space, bay windows are a great option as they protrude from an exterior wall and create a small shelf in the home. Enjoy your view while having space to put your drink. Bay windows rely on flat windows set into an angled frame that are built out of the home. This usually consists of a center window, from which two side windows are angled at 30 to 40 degrees.
If you want to add more natural light to your home but have limited options with your exterior walls, a skylight window is an excellent window style option. It's essentially a window for your roof, so enjoy counting those stars on a beautiful night.
Door Options
Over the last few years, connecting the indoors and outdoors has been a remodeling trend and, because of the pandemic, that trend has turned into a strong focus for many homeowners.
Lift and Slide, Multi-Slide, and Folding Patio Doors are becoming increasingly popular. These doors create expansive openings while remaining easy to open. It is also really easy to work them; you simply turn the handle to allow the unit to move, lifting the door and removing the pressure on the track for easy operation. These types of doors come with a flush or recessed sill option, which makes a seamless transition from the indoors to the outdoors.
Sliding patio glass doors, such as a French-style sliding door, expand the traditional two-panel configuration to four panels. This design, up to 16 feet wide, will open the view and allows for natural ventilation, which is something that has become increasingly important this past year. For a seamless transition from inside to outside, you can add fixed panels or operable panels to your French door.
To define indoor spaces, barn doors are a popular choice. Barn doors bring warmth and charm and look lovely in every room of the house. These doors are very versatile and can be stained or painted to match the walls and/or flooring in the space.
These are just several of the many choices our clients have when choosing windows and doors for their home. Please contact me today if you would like to discuss your design project further