TMD Inspiration
TMD's Tips for an Organized Pantry
1350 Beverly Road, Suite 115
PMB 143
McLean, VA 22101
Interested in working with us?
Use the contact form to tell us more about your project. Someone will get back to you within 48 business hours.
Creating inspired interiors for discerning clients since 2003. Accepting clients in DC, Virginia, Maryland, and select cities throughout the United States.
TMD's Tips for an Organized Pantry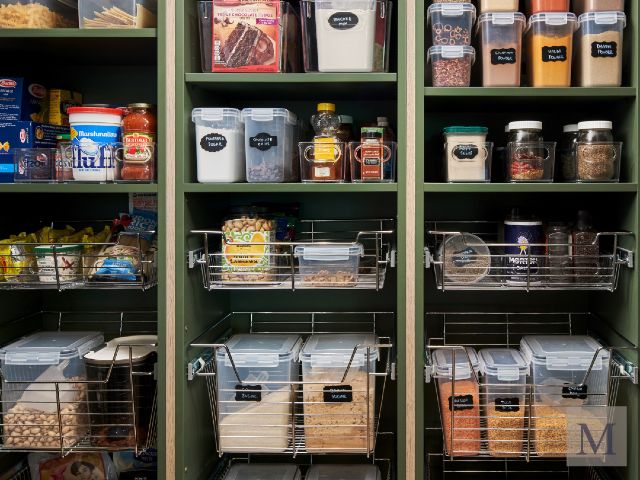 It takes a lot of effort to keep a pantry clean, especially when it comes time to restock. But, having a well-organized pantry can make all the difference in keeping it tidy—and helping it stay that way. Please see below for eight helpful tips on how to better organize your pantry to make it functional and visually appealing.
Purchase the Correct Items
When buying new products to help organize your pantry, look for three key factors: transparency, stackability, and functionality. Having transparent containers is important to help visually remind you what you have stocked. Stackability is also important for maximizing all the space in your pantry, and keeping in mind how your family will use the containers matters as well. If you have small kids, maybe shy away from air-tight locks or seals that might make it hard for them to access and use.
Clean Out Everything
Before you begin organizing, it's important to clear everything out of your pantry and give your space a deep clean before returning the items. Also, check the expiration dates on your items and throw out everything that has expired.
Categorize
Once everything is out of the pantry, categorizing them into different groups with like-items together will ensure every item has a home and will also help to keep things organized in the future. Make sure that your categories are intuitive and make sense to you, so you won't forget what goes where. Having a label maker and clear containers will also help with this.
Maximize Space
Making sure you are using all the vertical space in your pantry is essential. Adding shelves to walls or utilizing the back of doors if your pantry has one for spice racks or other organizers can be a great optimization of space. Wall space can even be for items that aren't food, such as chip clips, brooms, or bag dispensers.
Shelf Drawers
Turning shelves into drawers is a thoughtful solution to reaching hard-to-get places. Being able to pull out your shelves will help you to see and reach all of the items that were previously inaccessible.
Containers
Utilizing a variety of containers in your pantry can be another way to differentiate categories while also being visually appealing. The variation in clear airtight containers, crates, and/or baskets can be helpful for the differing types of items you're trying to store. For example, putting produce in baskets or taking flour out of the paper bag it comes in to put in an airtight container.
Lighting
Adding extra lighting to your pantry can be another helpful tool to remind and illuminate what you already have. If you add LED strips, they can also add personality to your space and be useful for remote control.
Eye-Level Essentials
Knowing your family and your pantry is crucial to creating an organizational system that works the best. If you understand what items your family uses the most, keeping them at eye level can be a way to increase efficiency in the pantry process.
Are you looking for design tips to organize your home and keep the stress of daily living at bay? See my article "Tracy's Tips for a More Organized Home" for more details.