TMD Inspiration
TMD's Guide to Bold Paint Color
1350 Beverly Road, Suite 115
PMB 143
McLean, VA 22101
Interested in working with us?
Use the contact form to tell us more about your project. Someone will get back to you within 48 business hours.
Creating inspired interiors for discerning clients since 2003. Accepting clients in DC, Virginia, Maryland, and select cities throughout the United States.
TMD's Guide to Bold Paint Color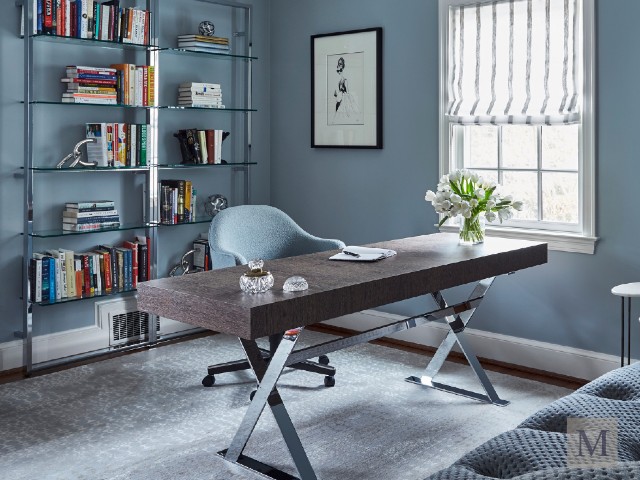 While there is something classic about a fresh coat of crisp white paint, consider a bold color if you are ready for a change of pace, bold colors can bring vibrancy and energy into any space. Before choosing the perfect bold color to use in your space, take into consideration the amount of light the space receives at different times of day as well as the permanent fixtures that are already in the space (for example cabinetry, tile, or flooring). Here are some suggestions to selecting and using the perfect bold paint color:
Paint your large to medium sized rooms a single bold color—it will make your open space feel more intimate and cozy.
Paint just a single wall in a small space with a bold color and keep the other walls neutral—anything beyond an accent wall in a bold color will overwhelm a small space.
Paint the trim the same color as the wall to make the space feel more contemporary. Added bonus: if you have a lot of trim and wood detailing on the wall, it will add instant texture.
Use neutral colored accents and accessories in a space painted a bold color. This will help to make the saturated colors stand and to create a visual break.
Choose shades that aren't too bright. Bold paint colors with muted tones are more sophisticated and visually soothing.
At Tracy Morris Design, we understand that the use of paint color in a home is a direct reflection of a homeowner's personality. Room color can influence mood, thoughts, and outlook. Please read my article titled Paint 101: Choosing the Correct Interior Paint Color and Finish to learn more about the psychology of choosing a paint color.