TMD Inspiration
TMD Guide to Basement Renovation
1350 Beverly Road, Suite 115
PMB 143
McLean, VA 22101
Interested in working with us?
Use the contact form to tell us more about your project. Someone will get back to you within 48 business hours.
Creating inspired interiors for discerning clients since 2003. Accepting clients in DC, Virginia, Maryland, and select cities throughout the United States.
TMD Guide to Basement Renovation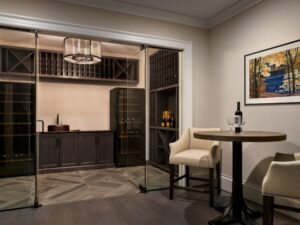 Today — perhaps more than ever — homeowners are looking for more living space in their homes. For some, their basement continues to merely be a storage space for holiday décor, unused furniture, and memorabilia. However, don't let that coveted square footage go to waste. By renovating your basement, you can increase the value of your home as well as add additional living space.
Before we talk about the design process, I would like to address several issues unique to basement renovations; lighting (or lack of), moisture, and energy efficiency:
Lighting. Basements are typically windowless and/or very dim. For this reason, appropriate lighting is key. Recessed or low-profile lighting works well in areas with low ceilings. Choose light, neutral paint colors — as well as white furnishings — to help bring additional light into the space.
Moisture. Living in the DC metro area, we are very experienced in dealing with moisture in our homes. A basement renovation is the perfect time to have your home professionally inspected for things such as cracks in the foundation and walls, and mold growth. A key step to moisture prevention is to promote air circulation naturally by opening windows or by installing mechanical methods such as fans and air purification systems.
Energy Efficiency: Did you know that as much as a third of a home's total heat loss can be attributed to an uninsulated or poorly insulated basement? By addressing these issues with energy efficient materials and products during a basement renovation, homeowners can add comfort and efficiency to their home.
Once these issues are addressed, the fun of a renovation can begin. As with any redesign project, I suggest the homeowners begin the design process by asking themselves "what is the purpose of the space?" Is this your primary space for relaxing? Do you need to create a playroom for young children? Are you working from home and need an office space? I always begin by asking questions such as these … sometimes the answers are unexpected.
I often like to think of the basement space in terms of "zones" based on each area's purpose. For example, a large basement space can be turned into a play space, rec room, and craft corner simply by dividing the space visually (by using area rugs, different paint color, poster/paintings, etc.) or physically (by setting a bookcase perpendicular to the wall or adding curtains as a divider). And don't forget seemingly un-useable space; transform an awkward corner or space under the stairs into useable storage space with built-in storage.
Finally, since it is a space secluded from the rest of the home, the basement is a space to have fun and try new things. Add interest to the room by adding wallpaper or shiplap accent wall. And remember — if the ceiling height allows — the ceiling can become a fifth wall for design experimentation.
If you are looking for more professional design tips for your basement, or any room in your home, please see my recent articles Designer Tips for Room Layout, Tips to Make Your Living Space Feel Larger, and Common Design Mistakes and How to Avoid Them.