TMD Inspiration
Tips to Make Your Bathroom Look & Feel Larger
1350 Beverly Road, Suite 115
PMB 143
McLean, VA 22101
Interested in working with us?
Use the contact form to tell us more about your project. Someone will get back to you within 48 business hours.
Creating inspired interiors for discerning clients since 2003. Accepting clients in DC, Virginia, Maryland, and select cities throughout the United States.
Tips to Make Your Bathroom Look & Feel Larger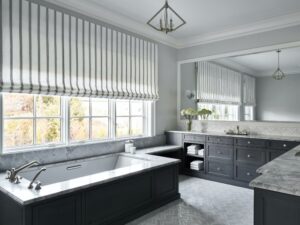 According to a recent report, online searches related to home remodeling are up 84 percent in 2020. With many of us spending a lot more time at home, we are noticing our surroundings and looking for ways to improve the appearance and functionality of our homes. Small updates in the bathroom — such as tile, hardware, or paint — are among the more popular projects.
Just like any other design project, I recommend the homeowner consider the following before taking on a bathroom redesign.
What is the purpose of the space? Is this a main-floor bathroom, children's Jack &Jill bath, or an owner's suite retreat?
Do you have any special needs to consider? Are you thinking about aging in place?
What is your design style? How does it mesh with the style and age of your home?
At Tracy Morris Design, we acknowledge that each project and client has their own unique set of needs and style. Once we discuss these questions (and any others that come up), it is time to begin the design process. Here are some simple ways to make your bathroom look and feel larger.
A Uniform Color Palate
Use a light, neutral color (including white) for tile and paint color throughout the space. Light wall colors make the room look bigger as they reflect light. And don't stop at just the tile and walls—create a seamless look by painting your ceiling the same color. For more information about choosing paint color, please see my article TMD's Guide to Neutral Paint Colors.
Extra Light
Often times, smaller bathrooms appear dark and dreary. If layout allows, installing a skylight or solar tunnel can immediately brighten up the space. The proper window treatment, such as a light filtering shade, can help bring in the light while maintaining privacy. Large mirrors can act like a window by creating the illusion of a much bigger room.
Large Tiles
Though a classic and popular choice, penny tile flooring or small mosaics in a bathroom can make a space feel smaller. Instead, choose large tiles to give the impression of more floor space and a cleaner look. An added bonus; there is less grout to keep clean.
Mix & Match
A great way to personalize a bathroom is to mix and match materials and finishes. For a classic look, combine ceramic tile, marble, and gold. Are you striving for a more contemporary look? A mix of stone, wood and nickel work well. Materials that come together in a beautiful, fresh way will never go out of style!
Built-In Storage
We often talk about storage in terms of closet space, but don't forget about the importance of a vanity in the bathroom. When redesigning a large bathroom, some clients will ask me about only using a single vanity because they feel like one is all they need for their lifestyle. However, I usually steer them against it; a double vanity in an owner's bathroom adds immense value on a daily basis as well as for future resale.
Are you looking for more ways to customize your bathroom? Please follow me on Facebook and Instagram for current trends and information.