TMD Inspiration
The Long-Term Impact of Covid-19 on Home Design
1350 Beverly Road, Suite 115
PMB 143
McLean, VA 22101
Interested in working with us?
Use the contact form to tell us more about your project. Someone will get back to you within 48 business hours.
Creating inspired interiors for discerning clients since 2003. Accepting clients in DC, Virginia, Maryland, and select cities throughout the United States.
The Long-Term Impact of Covid-19 on Home Design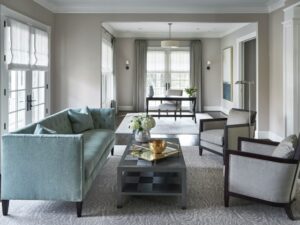 Earlier this year, the Wall Street Journal published an article titled "Top Design Trends of 2020." As expected, the authors conclude that interiors are taking center stage in 2020, as many of us are spending more time at home. Many of the top trends are what you would expect—an increased demand for home offices and usable kitchen space, luxury "spa" bathroom retreats and outdoor living spaces. While these trends are predictable and expected based on our "new normal," it is also important to look at the long-term impact of the global pandemic on home design.
Today, many designers and homeowners are looking for a way to promotes well-being, health, and emotional comfort. Biophilic design is based on a set of principles that aim to improve our connection with nature as a way to reduce stress. Here is a look at how to loosely apply these principles both inside and outside of the home.
A Healthy Home
According to a recent US Environmental Protection Agency (EPA) report, the average American spends approximately 90 percent of their time indoors. These indoor environments often have concentrations of pollutants are two to five times higher than typical outdoor concentrations. Poor indoor air quality can cause discomfort (such as sore throats and sinus pressure) as well as impact productivity and mood. In August of this year, I wrote an article about the many different elements that lead to a healthy home, including the importance of controlling moisture and limiting the amount of chemicals in your home.
Another aspect of a healthy home is the acoustics. During the pandemic, we are using our homes for many purposes simultaneously—work, school, entertainment, play. Designers need to consider how a space will be used and create the right acoustic environment. After all, being in a noisy environment can impact our mood and health, including increased anxiety, depression, and high blood pressure.
When considering an overall design, eco-friendly styles that focus on a minimalist approach by incorporating simple and timeless piece are very popular. For example, Scandinavian design blends modern tastes with traditional craftsmanship for a clean and sustainable look that will last decades.
Outside Your Home
While it is true that the Covid-19 pandemic has forced many of us to spend more time inside our homes, we are also spending more time in our own yards. Whether it is on the front porch or in the back garden, we are seeing the trend towards biophilic design outdoors as well.
One of the guiding principles of biophilic design is sustainability. A sustainable project incorporates renewable, local, and low-energy materials into the design. There is a focus on the connection between choice of materials to be used and nature. We are seeing locally sourced materials—such as stone natural woods—being used in our built environment. In terms of design, take your cues from Mother Nature.
For more design ideas, please see the following articles:
The Front Porch: An Extension of Your Home
Creating a Backyard Retreat
Outdoor Living: The Best Bang for Your Buck