TMD Inspiration
The End to the Open Floor Plan?
1350 Beverly Road, Suite 115
PMB 143
McLean, VA 22101
Interested in working with us?
Use the contact form to tell us more about your project. Someone will get back to you within 48 business hours.
Creating inspired interiors for discerning clients since 2003. Accepting clients in DC, Virginia, Maryland, and select cities throughout the United States.
The End to the Open Floor Plan?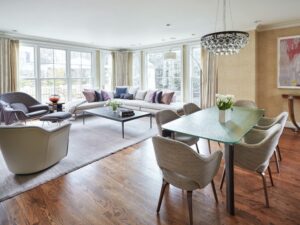 Open floor plans have been the dominant architectural style in residential construction and remodeling since the early 1990s. The goal of an open floor plan is to create a communal living space, or a "great room," usually comprised of the kitchen, dining area, and family room. This is where most of the family's day-to-day activities take place and really becomes the hub of the home, acting as a command center and central gathering area. Advantages to the open floor plan include better traffic flow, increased natural light, and easier supervision of children.
For many of us, our homes have become the sole place for work, social interaction, play, and rest during the Covid-19 pandemic. Because of this huge lifestyle shift, some serious design flaws of open floor plan living have been illuminated. Drawbacks include a lack of privacy, poor sound control, and a cluttered appearance. We have gained a renewed appreciation for distinct rooms during the time of quarantine. While it may be impractical or impossible to introduce walls and doors to create individual places for a particular function within our homes (for example, to create a separate, formal space for a home office), there are some solutions to make the open floor plan a bit less open.
Rezone larger rooms into smaller spaces. Create zones in your great room for different functions. For example, if you need an area for entertaining family and close friends, create smaller conversation area by arranging furniture into groupings of two or three pieces. If you need to create a temporary home office, add a small desk and appropriate lighting to an exterior area.
Use accessories as dividers. Are you looking to transform a room? There is no easier way than to add a new area rug. Area rugs add color and character to your home. They help to create and define spaces in your living areas. Bookcases can physically divide a room in two and portable furnishings, such as a drink cart can add charm while serving a practical purpose.
Define separation from the kitchen. Perhaps the most difficult area to "block out" is the kitchen. As we said above, it is the hub of the home. However, it is sometimes a very messy hub of the home. You can create a little distance by adding architectural devices like double-sided glass cabinets and large cased openings to "disconnect" the kitchen from the living area.
Vary the heights of your ceilings. Perhaps you are looking for more of a project? To help break up large rooms, consider changing the ceiling heights. For example, a lower ceiling can help create a feeling of coziness in a reading alcove. A soaring vaulted ceiling can help add light and airiness in an otherwise dark space.
Connect with the great outdoors. With so many activities happening in our homes these days, many of us are looking for a little bit of extra space. Luckily, many of us can turn our outdoor space into extra living space. As you contemplate ways to improve your outdoor area, think about projects that can both extend the hours you spend outside and make the time you spend there more relaxing. Please see my recent article Creating a Backyard Retreat for specific ideas and suggestions.
For more ideas on how to redefine your living space, please visit the Design Tips section on my website.