TMD Inspiration
Selecting Material for Your Fireplace
1350 Beverly Road, Suite 115
PMB 143
McLean, VA 22101
Interested in working with us?
Use the contact form to tell us more about your project. Someone will get back to you within 48 business hours.
Creating inspired interiors for discerning clients since 2003. Accepting clients in DC, Virginia, Maryland, and select cities throughout the United States.
Selecting Material for Your Fireplace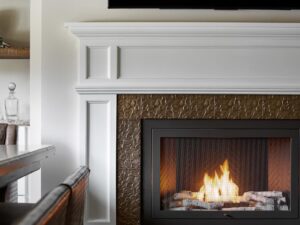 One of the more popular amenities in a custom-built home is a beautiful fireplace. According to a study by the National Association of Realtors, a fireplace can add up to 12 percent to a home's final value. And while a fireplace adds value to a home, it has many other positive impacts. A fireplace offers a wonderful touch to any space—it adds a certain coziness and elegance that many homeowners are seeking today. And don't be surprised if it becomes the focal point of the room. It may become the first thing that you, and your guests, see when they walk into your living space. However, with so many options available, selecting the material for your fireplace can be difficult.
As with any design project, I like to begin by asking my clients some important questions, such as:
How do you want the fireplace to feel?
Do you lean more towards a modern or traditional style?
What type of fuel (wood, natural gas, propane) will you use?
How much time are you willing to invest in maintenance?
After considering these questions, I always recommend that my clients examine the exterior architecture and materials planned for their home for clues. The exterior of the home will dictate to you what the fireplaces should look like on the inside. For example, a double-sided stone fireplace may be the perfect choice for a traditional home with a stone and Hardi-Plank exterior. On the other hand, a simple modern fireplace will fit perfectly in a home built of stucco and glass. Let the exterior be your inspiration.
Here are some popular materials to consider when choosing your fireplace surround:
Slate is a natural choice for fireplaces. Available in a wide array of colors and appearances (polished or natural), slate has a marble-like appearance and can be a real focal point of the room.
If you are going for a very elegant look, marble may be the perfect choice. Just like in countertop material, the random specks of color and veining create a one-of-a-kind, custom look.
Traditional brick fireplaces never go out of style. Available in a range of colors, brick can be installed in patterns to create visual interest. Painted or whitewashed brick add an added dimension to this popular fireplace material.
Natural stone or rock is one of the most popular choices for a fireplace façade. A natural product, the size, texture, and color of the rock helps to create a custom, unique centerpiece to your home.
For a more modern look, many homeowners are opting for a concrete surround. Concrete can be easily customized by adding stains and finished during the construction process and add texture after the concrete is poured.
As a construction-minded designer, I have many years of experience helping my clients not only design beautiful interior spaces but also advising throughout the construction process. If you have any questions regarding adding a fireplace (or two) to your new, home, please don't hesitate to contact me.