TMD Inspiration
1350 Beverly Road, Suite 115
PMB 143
McLean, VA 22101
Interested in working with us?
Use the contact form to tell us more about your project. Someone will get back to you within 48 business hours.
Creating inspired interiors for discerning clients since 2003. Accepting clients in DC, Virginia, Maryland, and select cities throughout the United States.
A Rug for Every Room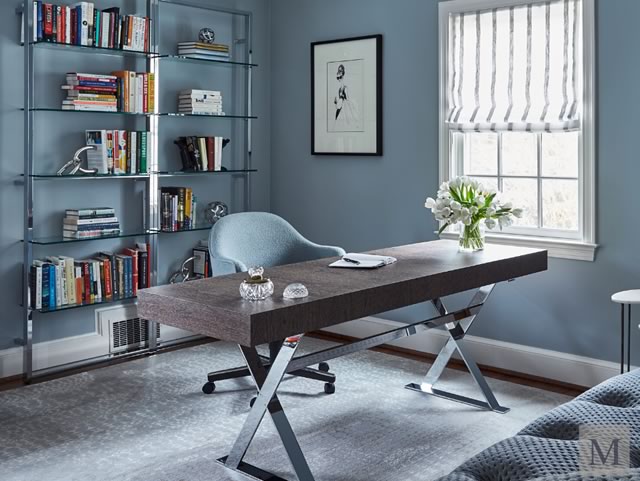 Are you looking to transform a room? There is no easier way than to add a new area rug. Area rugs add color and character to your home. They help to create and define spaces in your living areas. Two important things to consider when purchasing an area rug is the material from which it is made and type of weave. This impacts everything from how it feels underfoot to how it holds up to wear and tear.
Some common materials to consider are:
Wool
One of the most popular choices, wool rugs offer a great combination of durability and softness. While they are a great option for high-traffic areas such as living and dining rooms, they don't hold up well to moisture or direct sunlight.
Cotton
Soft like wool – but not as durable – cotton is soft underfoot and easy to clean. It's often used to make flat-weave rugs, which are perfect for dining rooms, home offices, and children's rooms.
Natural Fiber
Natural fiber rugs come in a variety of colors and textures. Typically made from jute, sisal or sea grass, these area rugs are very strong and often work well both indoors and outdoors. However, due to the coarseness of the fibers, they may be difficult to clean.
Synthetics
Synthetic rugs mimic the feeling of natural fibers with added durability, including the ability to repel moisture. They are ideal for high-traffic areas such as halls and entryways.
Silk
If you are looking for a soft and cushy rug, silk may be the answer. Silk adds incomparable softness with a shimmer that's ideal in low-traffic areas such as a master bedroom.
Some common weaves to consider are:
Flatweave
Flatweave rugs are great for dining room and offices. Their flat structure allows chairs to easily roll and glide over them.
Loop Pile
A loop pile carpet features the fibers of the rug in their looped form. Loop pile rugs are quite durable and suitable for high traffic areas. It is not recommended if you have pets since the loops can snag on paws.
Cut Pile
One of the most popular choices for rugs, the loops of the rug are cut creating a plush surface. Cut piles come in a variety of lengths and thicknesses. They work throughout the house but are particularly good in family rooms and bedrooms to add softness.
Mixed Weaves
Many rugs contain multiple types of weaves. Combining different types of weaves is a great way to add texture, pattern, and visual interest.
Whatever material or weave you choose, always use rug pads with your area rugs. Rug pads help to extend the life of your rug while helping to keep the it in place. They also help to prevent dirt particles and wet spills from damaging the floor beneath.
Are you hesitant to add area rugs to your home because you don't know how to care for them? Please read my article about caring for your area rugs