TMD Inspiration
The Decision to Renovate or Move to a New Home
1350 Beverly Road, Suite 115
PMB 143
McLean, VA 22101
Interested in working with us?
Use the contact form to tell us more about your project. Someone will get back to you within 48 business hours.
Creating inspired interiors for discerning clients since 2003. Accepting clients in DC, Virginia, Maryland, and select cities throughout the United States.
The Decision to Renovate or Move to a New Home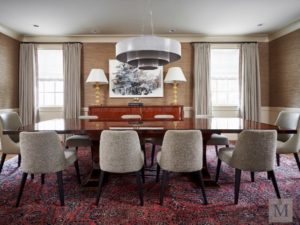 A home can adapt with its occupants, but only to a certain extent. Some homeowners outgrow their current space, while others seek a design overhaul. If you find yourself in need of more room or updated amenities, you may be contemplating renovations; however, sometimes moving to a new house is the best option.
How do you make the decision to renovate or move to a new home? Here are some factors to consider:
External Elements. Does your current neighborhood provide a great community? Do you have personal ties to the area where you live? External elements such as these can greatly impact your home's personal and emotional value—for better or for worse. Reflect on whether the problem areas of your home are within your power to change. No matter how much you love your current space, renovations won't change factors like commuting times or school districts.
Additional Space. Often, homeowners find that their homes could benefit from extra space. Before moving to a new house for additional square footage, assess how necessary the addition would be. Homeowners in need of a new bathroom or extra bedroom may find that a renovation suits their purpose. Expansion on a major scale can add up quickly, at which point moving to a home with the desired space and amenities may be the best option. If renovating is not on the table, consider consulting a designer about your home's current layout; with their expertise, your space can be utilized to its fullest potential.
Budgeting. The decision on whether you update your current home or move to a new one may come down to finances. For those looking towards renovating, budgeting accurately is key. Renovations can fluctuate in cost—perhaps you change your mind on the material of the countertops or unexpected technical problems arise—and these changes should be factored into your budget accordingly. Before deciding between staying or moving, establish how much you are willing to invest in either scenario. For some homeowners, moving to a home that meets their list of needs is more cost-effective than remodeling. If you have questions about budgeting for your redesign project, please see my article How to Budget for Your Interior Design Project.
In the end, the decision to stay and renovate or move to a new home will be influenced by any number of personal factors. Being aware of the benefits of each option can aid you in making the best decision.