TMD Inspiration
The Perfect Time to Order Outdoor Furniture
1350 Beverly Road, Suite 115
PMB 143
McLean, VA 22101
Interested in working with us?
Use the contact form to tell us more about your project. Someone will get back to you within 48 business hours.
Creating inspired interiors for discerning clients since 2003. Accepting clients in DC, Virginia, Maryland, and select cities throughout the United States.
The Perfect Time to Order Outdoor Furniture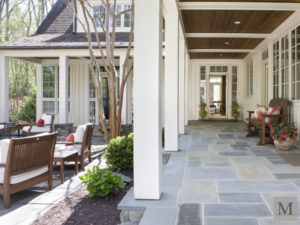 Even though we are several months away from cherry blooms and longer days, it is not too early to begin planning for outdoor living in the DMV. Are you considering adding to or replacing outdoor furniture and accessories this spring? Believe it or not, it isn't too early to place an order for your custom furniture.
Ordering custom furniture has numerous benefits, including:
A wide selection of colors, fabrics, and complementary pieces.
Quality and workmanship are guaranteed.
Any issues you may encounter are easily handled.
The furniture is made for you at the time of your order, using the frame and fabrics that you have selected.
If you are planning on ordering custom outdoor furniture, January is a good time to do so due to the lead time needed. The lead time is the length of time it takes to produce an order from the time it is placed to the day it is delivered. The lead time will depend on the materials used and how and where it will be made, but will usually take between six to ten weeks.
As we discussed in our article Furniture Lead Times: Why Does it Take So Long?, at Tracy Morris Design we help guide our clients through the process of ordering custom-made furniture. When we begin the design process, we will ask questions such as:
What is the style or look that best reflects your taste?
What is your budget?
Is there a specific date or time frame that you need something?
We find that, with a good amount of planning and assistance from our team (including fabric samples), our clients are thrilled with their custom-made selections. In the end, six to ten weeks is a small amount of time to wait for the perfect piece of furniture.
Are you looking for a bit of inspiration to refresh your outdoor space for the warmer months to come? Read our article titled Outdoor Living: The Best Bang for Your Buck.