TMD Inspiration
Caring for Your Outdoor Furniture in Winter
1350 Beverly Road, Suite 115
PMB 143
McLean, VA 22101
Interested in working with us?
Use the contact form to tell us more about your project. Someone will get back to you within 48 business hours.
Creating inspired interiors for discerning clients since 2003. Accepting clients in DC, Virginia, Maryland, and select cities throughout the United States.
Caring for Your Outdoor Furniture in Winter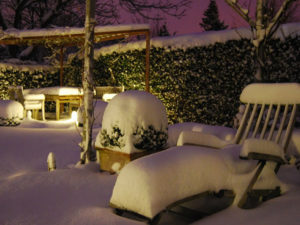 Last spring, I wrote an article titled Outdoor Living: The Best Bang for Your Buck. Now that autumn is approaching and days are getting shorter, I would like to offer some suggestions on how to protect your investment. Here are recommendations on what measures to take to prolong the life of your outdoor chairs, tables, and other various pieces:
Wood Furniture
Most wood furniture for outdoors is made from teak, which is naturally better at withstanding moisture and fluctuating temperatures than other woods. However, teak furniture should have a protective sealant applied yearly so that snow and freezing rain can't seep into the wood and cause it to crack. Also, ensuring that each piece is covered for the duration of the season will add to its life. With a little preventative care, your wood furniture will last for years to come.
Wrought Iron Furniture
Wrought iron furniture can rust if left out in the elements, causing the metal to weaken and break down. It is best to bring this type of furniture indoors during wet and cool months. If you think it's already too late for your wrought iron, don't fret; wrought iron furniture can be refinished.
Cast Aluminum Furniture
This is a popular choice since it is one of the most durable and weather resistant materials that you can buy. It is also very lightweight and can be easily moved if you are concerned about a windstorm or snow accumulation. Just like wood furniture, cast aluminum should be covered to protect it from the elements.
Cushions and Accessories
For items made of fabric, such as throw pillows and rugs, we highly recommend using Perennial Fabrics. They make a wide selection of durable, easy-to-clean, solution-dyed acrylic fabrics in a variety of colors, textures, and patterns. (See my recent article How to Care for Your Solution-Dyed Fabrics to learn more.) Regardless of material, all cushions and accessories should be stored either indoors, in a shed, or a free-standing storage unit when not in use during the winter months.