TMD Inspiration
Tips to Outdoor Entertaining in the Cool Weather
1350 Beverly Road, Suite 115
PMB 143
McLean, VA 22101
Interested in working with us?
Use the contact form to tell us more about your project. Someone will get back to you within 48 business hours.
Creating inspired interiors for discerning clients since 2003. Accepting clients in DC, Virginia, Maryland, and select cities throughout the United States.
Tips to Outdoor Entertaining in the Cool Weather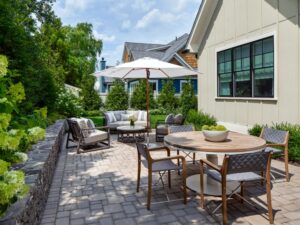 One of the great things about living in the DC metro area is that our mild weather allows for outdoor entertaining most of the year. This is especially valuable this year, as the coronavirus pandemic has forced many of us outdoors to entertain friends and family. The pandemic has been stressful for many people, and has led to an increased feeling of isolation and anxiety. Planned gathering with close family and friends this holiday season may be an opportunity to reconnect and enjoy good food and great companionship for one day.
It is important to remember that, per CDC guidelines, the safest way to celebrate the holidays this year is to celebrate with people in your immediate household. If you do choose to host a small, in-person holiday gathering this holiday season, the CDC recommends entertaining outdoors.
Here are some ways to create cozy and comfortable outdoor spaces for the holiday season:
Keep your guest list intimate and make sure that you have enough space to keep socially distanced. Map out table and chair placements in advance while keeping immediate families together.
Use real linens and table settings for your feast. It will make the day feel extra special, no matter which holiday you are celebrating. Keep your centerpiece and décor fun and festive while using as many natural elements (such as pumpkins, boughs of holly, and other seasonal decorations) as possible.
Do not set up a buffet table; either plate the food in the kitchen or have an appointed server at each table. You could also encourage guests to bring food and drinks for themselves and for members of their own household only. Make sure you provide plenty of hand sanitizer.
Design your outdoor entertaining space just like your indoor space—with plenty of seating and conversation areas for guests. Keep furniture on the lighter side so that you can quickly and easily move it around to accommodate different-size crowds.
Add a heat lamp as well as festive textiles and pillows to create a holiday outdoor retreat. Place baskets filled with pillows and blankets around the seating areas so that you and your guests have an opportunity to stay warm and cozy.
Upgrade your digital music system so it can be used outdoors. Add some well-placed speakers can help to bring the sound of your favorite holiday music outside.
Consider adding zero-energy solar-powered fixtures around the perimeter of your patio for a gentle ambiance to light up your evenings. Add overhead fairy lights to create a bit of magic.
Provide plenty of space for children to stay socially distanced while play games, running around, and being kids. Remember, this is a particularly challenging time for our children and they need an opportunity to enjoy themselves.
Once the holiday season is over, don't forget about caring for your outdoor furniture. Please see my article Caring for Your Outdoor Furniture in Winter for suggestions.