TMD Inspiration
What is the "New Normal" in Interior Design?
1350 Beverly Road, Suite 115
PMB 143
McLean, VA 22101
Interested in working with us?
Use the contact form to tell us more about your project. Someone will get back to you within 48 business hours.
Creating inspired interiors for discerning clients since 2003. Accepting clients in DC, Virginia, Maryland, and select cities throughout the United States.
What is the "New Normal" in Interior Design?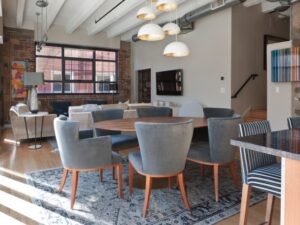 New design trends are emerging daily based on our ever-changing daily lives. Trends such as "sleek and modern kitchen appliances" (see my December 2019 article for the trends we were watching at that time) have been replaced with larger-scale developments in interior design such as biophilic design and indoor/outdoor living. To make your living spaces feel like home in 2021, find inspiration in the following trends.
Relaxed Living
Homes are becoming more relaxed, with homeowners moving away from traditional entertaining and dining space towards more laid-back environments. Natural woods, industrial metals, and unfinished stone are sought-after materials. Functional furniture, such as a sectional sofa, allow for spaces to be easily rearranged depending on mood and necessity. New neutrals—composed of ivory undertones—add warmth to any space. Finally, comfort and durability are key elements in upholstery; textured fabrics such as suede and wool lend themselves to softer pieces.
Mental Wellbeing
Many designers are embracing the principles of biophilic design. From large windows and sliding doors to let in ample sunlight to greenery and nature-inspired colors, biophilic design promotes our connection to the natural world. When correctly used, these design elements can lead to spaces that reduce stress, anxiety, and depression.
Functional Entryways
In direct response to the Covid-19 pandemic, homeowners and designers are paying more attention to entryways into the home. These spaces are being designed with cleanliness in mind, offering an area to take off shoes, hang items, and wash hands before entering the heart of the home.
Indoors & Out
Outdoor spaces are now considered an extension of the interior of the home. Homeowners are maximizing their outdoor spaces with dedicated areas for dining, working, lounging, and entertaining. To this end, designers are taking inspiration from architecture and the environment and blending these spaces so they flow together. For example, high-quality modular patio furniture can easily be moved around to create conversation areas. Outdoor area rugs add color and character to the space, while also creating and defining separate living zones.
Luxury Amenities
Many homeowners are looking for ways to make their homes feel like a retreat. For example, think about what makes you feel most relaxed when you go on vacation and bring that vibe into your own home. See my article Making the Perfect Bed for suggestions to make your bedroom feel like luxury hotel.
Smart Technology
As we continue to spend most of our time at home, there are many ways in which we can use technology in design. Home automation systems can monitor and control lighting, appliances, entertainment systems, and climate control. Employing these smart systems can reduce energy costs and help to keep our homes safe and healthy.
Please follow me on Facebook and Instagram, where I frequently share ideas and articles about what is the "new normal" in design.