TMD Inspiration
1350 Beverly Road, Suite 115
PMB 143
McLean, VA 22101
Interested in working with us?
Use the contact form to tell us more about your project. Someone will get back to you within 48 business hours.
Creating inspired interiors for discerning clients since 2003. Accepting clients in DC, Virginia, Maryland, and select cities throughout the United States.
Making the Perfect Bed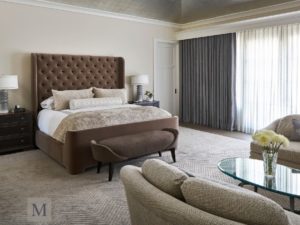 For a recent Washington Post article, I was asked about where I find motivation for designing a client's (or my own) bedroom. I have found that items in hotel rooms – such as furniture or color palettes – are a fantastic source of inspiration. I have also found the comfortable and cozy bedding found in hotel rooms to be a real luxury. Then I asked myself "why not bring a piece of luxury living home with me?" Here are my recommendations for making the perfect, hotel-worthy bed.
Step 1: Mattress
The key to a comfortable night's sleep is a high-quality mattress. Most mattresses have an expected lifespan of eight to ten years … so the upfront investment is worth it. When choosing the best mattress for you, consider if you are a side sleeper (soft mattress) or a back/stomach sleeper (firmer mattress).
Step 2: Cover It
A mattress pad is designed to protect your mattress from allergens, dust, and spills as well as adding a layer of comfort. If you are looking for even more luxurious softness while not taking away from the support of the mattress, consider adding a topper.
Step 3: The Sheets
It is always recommended to invest in the highest-quality sheets you can afford. Here is a quick run-down of what to look for:
Thread count: Thread count matters. A high-quality sheet that will last you for years to come will be between 300-430 thread count.
Material: Cotton is a premium product and breathes much better than jersey, linen, or other fiber blends.
Weave: If you like smooth, silky sheets choose cotton sheets with a sateen weave. For a lighter and crisper feel, choose a percale weave.
Step 4: The Ultimate Accessory – the Duvet Cover
The duvet cover should be the focal point of your bedroom. Added bonus: it is easy to switch and style for every season. When choosing your duvet cover, think not only quality (see above) but also design and style. When choosing the comforter (that goes inside the duvet cover), consider if you are a "hot" or "cold" sleeper and select accordingly.
Step 5: Blankets
You never know when a comfy throw or full-size blanket may come in handy! Keep one at the foot of your bed and in easy reach.
Step 6: Add Pillows
This completes the look of the bedroom. It is recommended to have at least two pairs of shams that match your duvet, sleeping pillows with sheets from your sheet set, and decorative throw pillows. Don't forget to use pillow protectors for your sleeping pillows.