TMD Inspiration
Interior Design Trends We are Watching for 2022
1350 Beverly Road, Suite 115
PMB 143
McLean, VA 22101
Interested in working with us?
Use the contact form to tell us more about your project. Someone will get back to you within 48 business hours.
Creating inspired interiors for discerning clients since 2003. Accepting clients in DC, Virginia, Maryland, and select cities throughout the United States.
Interior Design Trends We are Watching for 2022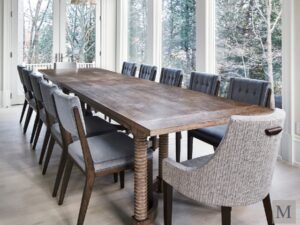 Each year, we like to take a look ahead at the trends we are looking forward to embracing in the upcoming year. For 2022, we are seeing a combination of new (Japandi design) and old (sustainable materials) emerging. Here is just a sample of the design trends that we are anticipating in the new year.
Natural Materials
Environmental friendliness and sustainability will continue to be a top priority in design next year. Wood continues to be one of the most popular sustainable materials. From flooring to cabinetry, furniture to accent pieces, lighter woods—such as maple, oak, birch, ash— will continue to be widely used. More exotic materials—such as cork, bamboo, and rattan— will continue to gain popularity as well.
Japandi Style
A new approach to minimalism, Japandi is a cross between Japanese and Scandinavian design. Characterized by soft, nature-inspired colors, Japandi can be used to transform a house into a welcoming, peaceful, and comforting sanctuary.
Brass Accents
Adding a touch of brass is an excellent way to add glamor and warmth to your home. Antique brass frames and mirrors instantly add sophistication and character to plain walls. Brass hinges, taps, and even statement lighting can turn any kitchen into an elegant space.
Pattern & Color
The celebration of pattern, texture, and color that we embraced last year continues into the new year. Grand millennial style—with its mix of small prints, large-scale florals, and soft hues—is timeless and classic. Look for furniture with European-inspired detailing, such as sloping arms and metal legs, for a timeless look.
Tranquility & Harmony
As many of you know, one of my favorite design elements in any space is the use of color. Color can influence mood, health, and overall wellbeing. Benjamin Moore's 14 hues chosen for their 2022 Create Your Canvas promote "tranquility and harmony while still boasting vibrant individuality in its tones." I am looking forward to using these colors in the upcoming year.
Reimagining the Dining Room
In past years, the formal dining room for many homeowners was an afterthought. However, today's dining room is getting a makeover, turning it into an inviting space to entertain family and friends as well as more practical uses, such as a home office or study. Homeowners are choosing durable furniture and fabrics (such as solution-dyed fabrics) that can serve multiple purposes. Pops of color and a mixture of textures can help to add a touch of fun to a traditional space.
Making a Statement in the Kitchen
If a new kitchen is in your not-so-distant future, consider adding a furniture-style cabinet piece to the space. A custom piece that is designed to look more like a hutch (with glass doors on the upper portion) can act as the perfect separation between rooms while allowing natural light to pass between rooms. It also provides extra storage for kitchen appliances and dishes.
Please don't hesitate to contact us if you have design questions or if you are planning a design project in the new year. We are happy to assist!