TMD Inspiration
How to Live Through Your Home Renovation
1350 Beverly Road, Suite 115
PMB 143
McLean, VA 22101
Interested in working with us?
Use the contact form to tell us more about your project. Someone will get back to you within 48 business hours.
Creating inspired interiors for discerning clients since 2003. Accepting clients in DC, Virginia, Maryland, and select cities throughout the United States.
How to Live Through Your Home Renovation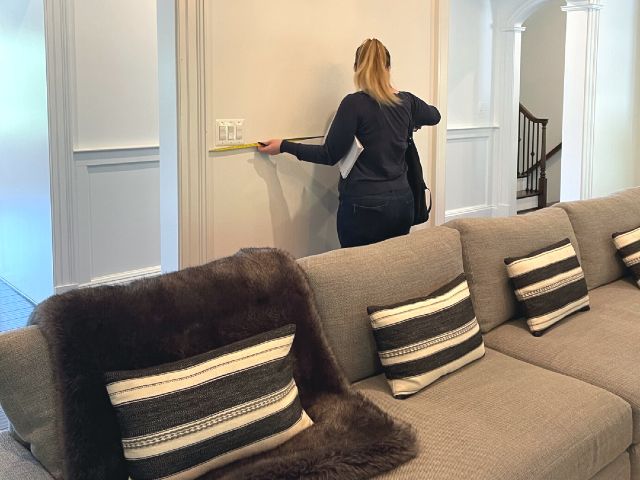 Living in your home during a renovation has many benefits, including saving on costs, being nearby for any questions from builders, and keeping the house more secure than leaving it vacant. Living at home during a major renovation is entirely possible, but knowing how to prepare can help manage expectations. Keep reading for six tips on how to live through a home renovation.
Plan Carefully
One of the most important ways to keep your home renovation moving smoothly is by planning everything carefully. Keeping a calendar of important dates so that nothing gets lost in the moving parts of renovations can be helpful. Even if your timeline is flexible, create a detailed list to coordinate and feel organized. Another tip is to keep a planner and create a daily schedule to help you stay on track and make your day seem less hectic.
Work With A Team of Professionals
Home renovation projects are a significant undertaking, so having a trusted team of professionals is incredibly important to keeping communication strong and setting expectations. A designer, architect, and contractor are all critical members of your team. The faster you can adjust to having new people around the house, the better your professional relationship will be.
Designate Certain Areas for Work and Play
Once you have your team and a solid plan, identifying the rooms in your house that will be free during certain parts of your home renovation is key to helping avoid the hazards, commotion, and dust that come with the process. Home renovations are hectic, so ensuring you have a sanctuary space unaffected by the reno at all times is necessary to preserve peace. Also, if you have kids, making sure there's always a room that is safe for them to play in unsupervised is incredibly important as certain rooms can be dangerous during a reno.
Identify Essentials
Before starting your home renovation, you should identify essential and most frequently used items and keep them in a separate room so they can be easily found. Doing this before the renovation can help you plan around inaccessible rooms and help you get a head start on decluttering.
Kitchen and Bath Access
Planning is especially crucial when remodeling the kitchen or bathrooms. Preparing meals in advance or ordering takeout can make life so much easier. Setting up a temporary kitchen in another room or garage can be a great way to continue cooking throughout your home renovation process. Bathroom renovations can also cause complexities, and if you can't renovate one bathroom at a time, it's important to have a backup plan. Let family or friends close by know about your home renovation so you can shower or do laundry if necessary.
Plan Getaways
Lastly, your home can get chaotic during a home renovation, so limiting visitors can save extra stress surrounding hosting. Instead, home renovations are the best excuse to plan a vacation getaway or a night out with friends. Take the time to escape and get comfortable, but make sure to communicate with your contracting team before leaving for any extended period of time.
Are you considering building a new home in the new year? See my article TMD's Tips for Building Your Dream Home for my advice