TMD Inspiration
Home Design: Where to Splurge and Where to Save
1350 Beverly Road, Suite 115
PMB 143
McLean, VA 22101
Interested in working with us?
Use the contact form to tell us more about your project. Someone will get back to you within 48 business hours.
Creating inspired interiors for discerning clients since 2003. Accepting clients in DC, Virginia, Maryland, and select cities throughout the United States.
Home Design: Where to Splurge and Where to Save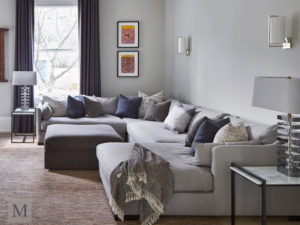 It is often difficult to find a balance between wants and needs when designing your home. The kitchen of your dreams may be full of luxury items that will blow your budget out of the water. Or your ideal bathroom may be so over the top that you will never see your return on investment. In this article, we explore where to splurge and where to save when designing your home.
Where to Splurge
Splurge on main living spaces and areas that get heavy daily use by the entire family, including:
Kitchen: Choose hard-wearing, well-constructed kitchen cabinets that will stand the test of time. Same for kitchen countertops – invest in a quality material that will last such as granite, quartz, or a hardwood that has been properly treated. Also, don't be afraid to mix different materials.
Bathrooms: When it comes to your plumbing, cutting corners is risky. A poor-quality fixture can be responsible for a leak whose repair costs far outstrip any up-front savings, so it's definitely best to invest in a quality piece.
Living Areas: Your primary sofa, sectional, and/or upholstered seating should be comfortable, durable, and beautiful. Invest in quality fabrics with tight weaves made of natural fibers or high-grade synthetics. Cotton blends that have a high percentage of polyester provide optimal stain resistance and long-term wear.
Throughout Your Home: It can take months to find the perfect rug and, when you do, it usually isn't inexpensive. However, the perfect rug is invaluable – it helps to define living spaces while providing color and character to your home. A well-made area rug can be enjoyed for generations.
How to Save
Save on secondary spaces that are not used every day, including:
Guest Bathrooms: While you don't want to skimp on the fixtures (see above), you can on the materials. For example, by using classic subway tile you can leave plenty of room in your budget for other areas.
Accessories in Living Areas: Don't be afraid to mix and match accessories, such as throw pillows and blankets. Remember that pieces don't have to match; instead, pick up on a family of hues or add a new design element altogether.  These items can be occasionally moved to a different room or stored away for a season.
Basement: The basement is often an area for the kids and their friends to hang out and doesn't need to be filled with fancy things. This is always a great way to repurpose furniture that you aren't ready to part with just yet but doesn't have a spot in the main living areas of the home. You don't have to spend a lot to outfit the basement to be a spot kids and the family will enjoy.
Finally, hiring a designer is often the smartest investment you can make when undertaking a design project. Interior designers serve a purpose for everyone: from the client who has no idea where to begin the design process to a client who simply doesn't have the time to execute their vision and desires due to a hectic schedule. Click here to read more articles about budgeting and the design process with Tracy Morris Design.