TMD Inspiration
TMD's Guide to Fabric Choices
1350 Beverly Road, Suite 115
PMB 143
McLean, VA 22101
Interested in working with us?
Use the contact form to tell us more about your project. Someone will get back to you within 48 business hours.
Creating inspired interiors for discerning clients since 2003. Accepting clients in DC, Virginia, Maryland, and select cities throughout the United States.
TMD's Guide to Fabric Choices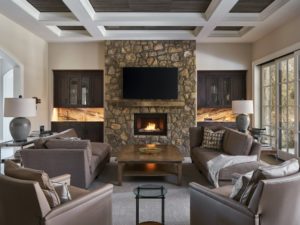 Whether you are purchasing a new piece of furniture or reupholstering an old favorite, choosing the right fabric to use on your furniture – and making sure it reflects your lifestyle – is critical. While ultimately it comes down to your personal situation and needs, here are some considerations:
In general, synthetic fabrics tend to be more durable than natural ones.
If you choose a synthetic fabric, a polyester blend may be your best option.
If you want to opt for a natural fabric, leather or linen are your best bets.
Keeping upholstered furniture clean and in good condition is important – this will help your furniture avoid dust and lint build-up, which can get inside cracks, seams, and fibers. The best vacuums to clean upholstery with are equipped with HEPA filters. HEPA filters trap dust, keeping it out of the air and away from your furniture.
Here is our guide to different fabrics, where best to use them, and how to spot clean them to ensure that they wear well for years to come.
Synthetic Fabrics
Polyester. First introduced in the 1950, polyester is a high-performance, durable fabric that is usually combined with a natural material. These blended fabrics are known for their easy cleaning and resistance to fading, wrinkling, and abrasion. Polyester stands up well to spot cleaning. Blot up wet stains, then spot blot the area with a dampened cloth and a mild detergent. Avoid rubbing, since this will force the stain into the fabric's fibers.
Velvet. Velvet can be made from cotton, silk, or polyester. However, polyester velvets are highly recommended since they are more durable than their natural fiber counterparts. Velvet stands out for its comfort, texture, and rich color options. Cotton and polyester velvets can be spot-cleaned at home using a gentle detergent and light blotting with a paper towel. However, be careful not to press too hard or rub at the velvet, which may damage the upholstery.
Microfiber. Microfiber is made of tightly woven synthetic fibers, providing durability and moisture resistance while maintaining the overall aesthetic qualities of suede. It is softer than suede and much easier to clean. Cleaning guidelines are the same as polyester (see above).
Rayon. Rayon was developed as an alternative for silk, linen, and cotton. It's commonly blended with other types of threads to create a mixed material that's appropriate for upholstery. Durable, but prone to wrinkling, rayon may be difficult to care for.
Solution-Dyed Acrylic. Solution-dyed acrylic fabrics are unique in that a liquid acrylic solution is mixed with dye, formed into a fiber, and then spun into yarn. This process allows the fabric to be water-resistant, colorfast, and soft to the touch. Solution-dyed acrylic fabrics have become readily available, and in a wide variety of colors, textures, and patterns. Use a natural soap and warm water to sponge spots briskly, rinse with clear water, and air-dry.
Natural Fabrics
Linen. Linen is an extremely strong natural fiber. Made from flax, it offers a smooth and soft feel. Linen is better suited for casual spaces. It naturally resists pilling and soiling. To clean, simply blot up wet stains and then spot blot the area with a dampened cloth and a mild detergent.
Cotton. You'll rarely find 100 percent cotton upholstery fabric — it's typically part of a blend. The best-quality cotton blends will generally contain about 45 percent to 60 percent cotton. It is a common choice for slipcovers, since most cotton can be cleaned with soap and water.
Wool. Like cotton, most wool upholstery fabric is actually a blend (if not, the fabric tends to be very scratchy). Though wool is durable, it can be difficult to clean and risks felting – these risks can be mitigated if it is part of a blend.
Leather. Made from animal hide, leather is durable and easy to clean. There are different grades of leather. Invest in the highest-grade leather you can afford. For general cleaning, use a moisturizing soap mixed with a bit of water. Lather on with a soft cloth, wipe clean, and allow it to dry on its own. Do not rinse, since the soap should be absorbed by the leather. You can also purchase specialty leather cleaners, such as saddle soap, which work in a similar manner.