TMD Inspiration
TMD Guide to Ceramic & Porcelain Tile
1350 Beverly Road, Suite 115
PMB 143
McLean, VA 22101
Interested in working with us?
Use the contact form to tell us more about your project. Someone will get back to you within 48 business hours.
Creating inspired interiors for discerning clients since 2003. Accepting clients in DC, Virginia, Maryland, and select cities throughout the United States.
TMD Guide to Ceramic & Porcelain Tile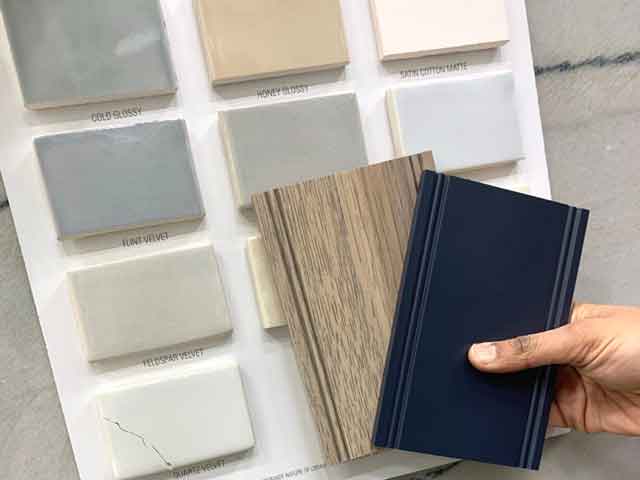 Many people use the term ceramic and porcelain tiles interchangeably. Used as flooring or a wall surface material, ceramic and porcelain tiles are installed the same way and have similar merits and drawbacks from a design perspective. While they are both elegant and versatile, there are differences between the two. Depending on which space the tile is to be used, one may be preferable for your next project. Here is how they differ and the best places for installation.
Ceramic tile is made from natural clay, sand, and water. Once the materials are molded into a shape, the tiles are baked in a kiln to remove most of the moisture. While porcelain tile is produced in the same way, the clay that is used is typically a bit denser and they are baked at a higher temperature.
Ceramic tile generally has a solid pattern and color. On the other hand, porcelain tiles often mimic natural stone such as marble or even wood grains.
Ceramic tile can be cleaned routinely with a multipurpose spray cleaner and a soft cotton cloth or sponge. For porcelain tiles, a regular cleaning with warm water and a mild soap is sufficient. While porcelain is resistant to scratches and etching, it is best to wipe up spills immediately to prevent possible stains.
Ceramic tiles are more porous and often absorb more water. Also, because the tile designs are printed on the surface and protected with a glaze, it will be more noticeable if a ceramic tile gets chipped. On the other hand, the density of porcelain tile makes it more durable and less subject to wear and tear. Porcelain's color or design is carried through its entire body so it is not as obvious if they happen to get chipped.
Where are the best places to use ceramic and porcelain tiles in home design? 
Because they are a bit more delicate, ceramic tiles are great for areas that don't get a lot of traffic. With a wide range of colors and design options available, they are the perfect accent for walls and kitchen backsplashes. Ceramic floor tiles tend to have a softer surface and, therefore, are more comfortable to walk on than porcelain.
Because they are typically more durable, porcelain tiles are a great option to use on countertops or flooring. Because they are harder and denser, they are the perfect choice for high-traffic areas such as hallways, mudrooms, and kitchens, mudrooms. The higher water resistance of porcelain tiles makes them an option for outdoor patio or other exterior uses.
While the possibilities may seem overwhelming, please know that the team of professionals at Tracy Morris Design is always on hand to help guide our clients through the tile selection process. In addition, please read my article Selecting Tile for Your Bathroom for a discussion of things to consider when selecting tile for your bathroom design.