TMD Inspiration
Furniture 101: What is Inside Matters
1350 Beverly Road, Suite 115
PMB 143
McLean, VA 22101
Interested in working with us?
Use the contact form to tell us more about your project. Someone will get back to you within 48 business hours.
Creating inspired interiors for discerning clients since 2003. Accepting clients in DC, Virginia, Maryland, and select cities throughout the United States.
Furniture 101: What is Inside Matters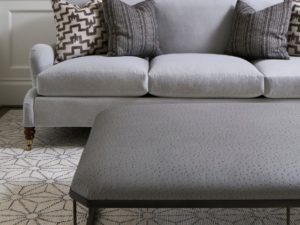 When shopping for an upholstered couch or chair, it is often the color or style that catches a buyer's attention first. However, a piece's cushion filling and construction are just as important as its appearance. Furniture is a long-term investment, so we recommend selecting a piece that will stay comfortable for years to come. In this article we discuss two areas to consider: cushion filling and construction.
Cushion Filling
Filling is typically made of polyester, foam, feathers/down, or a combination of these. Beyond aesthetics, personal preference needs to be considered when selecting a piece of furniture. For example, some people love sinking into a cushy-soft couch at the end of the day. Others may prefer a firmer sofa that maintains its shape. In addition to your own personal preference, here are some things to consider before you begin shopping for the perfect piece of furniture for your home.
Polyester. Polyester is a widely available, inexpensive option and comes in several densities. Soft polyester is durable and bouncy. "Ply-a" soft polyester is flat does not bounce back. Faux-down polyester is a fantastic alternative for those who suffer from feather allergies. Finally, cluster-polyester contains tiny fiber balls and is extremely long-lasting. Polyester is a fantastic choice for active families and those with pets.
Foam. A majority of chairs and sofas manufactured today have cushions made of layers of high-resiliency foam. Foam retains its shape over time and offers a low-maintenance, supportive feel. Memory foam supports and conforms to your body, so it's ideal for people with muscle and joint pain. Foam is also routinely used in sleeper sofas.
Feathers and Down. You will find this naturally soft filling inside some of the most expensive sofas. Feathers and down are the softest materials used in cushion filling. Pieces featuring down filling are more expensive – look for down that is sewn into individual pockets or baffles to prevent lumpiness. For a firmer option, choose cushions with a foam core and an outer layer of feathers or down. Also, a head's up: feathers won't dry properly if they get wet – so please make sure to use a waterproof cover.
Overall Construction
After choosing the cushion fill, one last thing to consider is the quality of construction. While the cushions give the piece of furniture its shape, it is the springs that determine the comfort-level. The best upholstered furniture has hand-tied springs beneath the seat cushions. Lower-quality furniture uses sinuous, or "S" shaped springs to support the cushions. See my article When to Reupholster Versus Buying New for more information.
In the end, a quality piece of furniture isn't inexpensive. A good-quality sofa or chair will stay more comfortable and retain its good looks for a long time. Taking into consideration personal preferences and lifestyle, consider buying the best quality piece that you can afford.
If you have any additional questions about cushion fills or furniture construction, please contact us.