TMD Inspiration
1350 Beverly Road, Suite 115
PMB 143
McLean, VA 22101
Interested in working with us?
Use the contact form to tell us more about your project. Someone will get back to you within 48 business hours.
Creating inspired interiors for discerning clients since 2003. Accepting clients in DC, Virginia, Maryland, and select cities throughout the United States.
Different Design Styles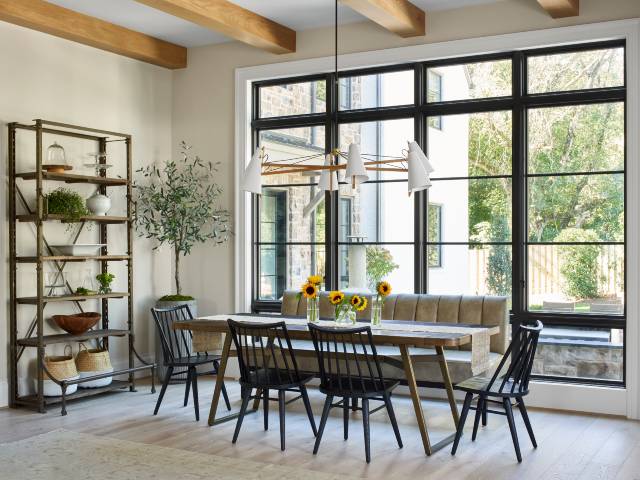 One of the most exciting aspects of designing is working with clients from various backgrounds and interests to discover their ideal interior design style. There are so many styles to choose from when decorating that it can become overwhelming to know where you land stylistically. Whether you're looking to revamp a room in your apartment or decorate your entire home, I'm here to help guide your journey and navigate the sea of styles to find one that resonates with you and reflects your taste. From the organic shapes of Mid-Century modern design to the relaxed and soft charm of transitional design, there is a wide range of styles to garner inspiration. Keep reading for a guide to eight interior design styles.
Traditional
Traditional styles are timeless since the focus is on classic furnishings rather than changing for trends. You will see lots of solid wood furniture in this style, made from darker woods such as cherry or walnut. Decor leans towards glass, brass, or bronze objects and a color palette with more muted and darker colors such as burgundy or green.
Modern
Modern designs focus on clean lines, minimalism, and functionality to create a fresh and sleek space. The focus is on neutral color palettes, natural materials, and decluttered spaces, with many modern-style homes having open floor plans with longer furniture pieces that are lower to the ground.
Transitional
Transitional styles are also extremely popular as they marry traditional and modern design elements to create the perfect blend. Seen as a type of interior 'palate cleanser,' this style is characterized by neutral color palettes and minimal aesthetics with a pop of color through rugs or art. Statement lighting or accent pieces are also popular in transitional spaces.
Modern Farmhouse
The charm of the modern farmhouse design style comes from its simplicity and connection to nature. Warmth and character are added by using a neutral color scheme and emphasizing natural textures like distressed wood, exposed beams, and repurposed materials. Mixing more modern furniture styles with vintage pieces is another way this style creates a fresh spin on this classic style.
Mid-Century Modern
This style is defined by curved design and simple-yet-functional wooden furniture, with teak and oak being the main characteristic of this style. Bold accent colors are also a staple, with color being used to make furniture or other items stand out. Ornate features are not usually found in mid-century modern in favor of more simple and clean lines.
Euro Chic
This style is inspired by European homes with classic and historical architectural designs and blends modern aesthetics. This design emphasizes luxury with features like detailed moldings on the ceilings and walls and statement light fixtures. Textures such as velvet and silk and intricate tiling throughout the home are also a staple of this style.
Scandinavian
Bright and airy spaces shine in Scandinavian-style homes. This style focuses on warmth and comfort, with an emphasis on clean lines, natural light, and materials such as rattan, linen, and leather. Pastel colors are the main color palette of this design style.
Industrial
This design style has a flair for the dramatic, with exposed brick, pipes, and metal a mainstay of this style. Dark colors such as dark green or rust are frequently found in homes with this style for a more rugged and urban feel.
Don't hesitate to contact me today if you would like to discuss your style preferences for your next project.