TMD Inspiration
Designing Your Pool House
1350 Beverly Road, Suite 115
PMB 143
McLean, VA 22101
Interested in working with us?
Use the contact form to tell us more about your project. Someone will get back to you within 48 business hours.
Creating inspired interiors for discerning clients since 2003. Accepting clients in DC, Virginia, Maryland, and select cities throughout the United States.
Designing Your Pool House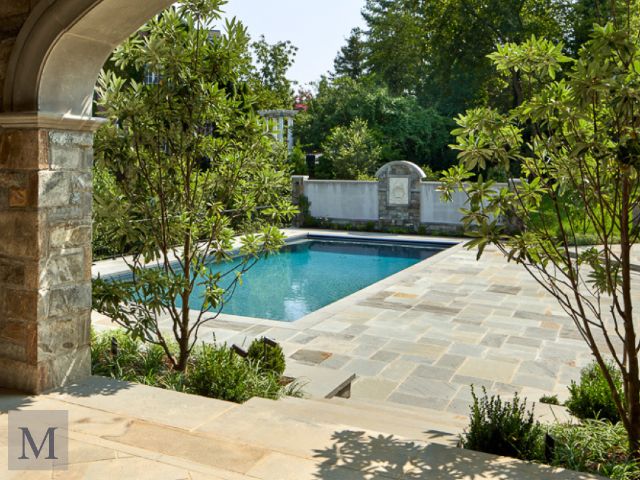 Over the past several years, many of us have spent much more time at home. If you follow me on Instagram, you may recall seeing the outdoor transformation in my backyard last summer. In fact, according to a recent study, year-round usage is a top priority for outdoor living (62 percent), as well as bringing the comfort of indoors outside (56 percent). One way to enjoy outdoor living more is by installing a pool and pool house. A custom pool house can add sophistication and functional space to your backyard.
Here are some things to consider if you want to transform your ordinary backyard and pool area into a luxury retreat.
Location of the pool house. Many clients choose to build their custom pool house separate from their main home. This allows for a place to escape everyday life and enjoy the pool—almost like having a vacation home on your property. However, some clients find that it fits their lifestyle better to have the pool house work in conjunction with a walk-out basement or another informal wing of the home. Other important things to consider are the current landscaping, grading, and amount of sun the location receives. For example, in a sunny, hot climate (such as summer in DC), you may want to site it in the natural shade.
Style of your home and pool house. Do you want the style of your pool house to look exactly like your current home, or a style that complements it? When making this decision, it is important to remember scale and function. Regardless of style, all pool houses should open toward the pool deck, and the exterior should be fun and welcoming.
Amenities to include. What you can include in the pool house depends on the amount of space you are working with and your budget. Most pool houses include a bathroom and shower facilities (inside, outside, or both). A dedicated changing room with bins for storage and baskets for toys and wet items is helpful. A laundry area with a washer/dryer is ideal. And don't forget storage area(s) for seasonal items (such as tubes, rafts, noodles, water basketball nets, etc.) and cool-weather storage for oversized items (such as patio furniture, cushions, pool maintenance equipment, etc.)
Create an indoor/outdoor oasis. A pool house offers unlimited indoor/outdoor living options. You can enjoy year-round entertaining by adding a kitchenette into the structure and adding retractable doors that span the entire front of the pool house that lead to an outdoor dining area. Or, perhaps you already have an outdoor kitchen that you can incorporate into the pool house design. Add plenty of lounging and seating areas, such as a cozy hammock for reading and comfortable chairs for entertaining.
Choose high-quality and durable materials. A pool house and the surrounding area need to be able to handle considerable daily wear-and-tear. Choose materials that don't become slippery, dry quickly, and drain well. Invest in outdoor furniture that will weather well (aluminum, wrought iron, and woven vinyl are excellent choices), with clean, mesh seats and backs. For items made of fabric, such as throw pillows and rugs, we recommend using Perennial Fabrics. They make a wide selection of durable, easy-to-clean solution-dyed acrylic fabrics in various colors, textures, and patterns. (See my article How to Care for Your Solution-Dyed Fabrics to learn more.)
Please contact me today if you are interested in designing a custom pool house. I would love to discuss your ideas!