TMD Inspiration
Designing the Perfect Teen Hangout Space
1350 Beverly Road, Suite 115
PMB 143
McLean, VA 22101
Interested in working with us?
Use the contact form to tell us more about your project. Someone will get back to you within 48 business hours.
Creating inspired interiors for discerning clients since 2003. Accepting clients in DC, Virginia, Maryland, and select cities throughout the United States.
Designing the Perfect Teen Hangout Space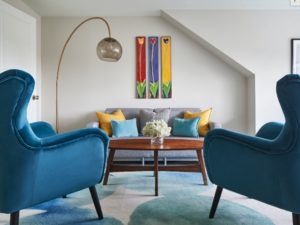 We are all spending an increased amount of time at home these days … including our teens. So why not give them a place of their own? With a bit of creativity, a small(ish) budget, and the following suggestions, you can design the perfect teen hangout space.
Designate a Space
First, designate an official teen space. An unfinished area, an underutilized room, or even an outdoor porch can be turned into the perfect teen hangout.
Privacy
You want your teen to have a private place to chat with friends (either online or in-person), listen to music, and relax. However, there must be a balance between a teen's need for privacy and the parents' ability to supervise.
Give Your Teen a Budget
Tell your teen what you can afford to contribute to the effort and come up with a plan about how you might make the space more inviting. By providing a budget, you are empowering your teen to make decisions and to take ownership of the space.
Furniture
Consider investing in modular furniture pieces that can be easily moved and replaced if needed. Sectional sofas, swivel chairs, and even bean bags are fantastic choices. Look for pieces that have washable slip covers. Add a pop of color with inexpensive throw pillows and comfy throws.
Décor
Allow your teen to express their own unique style. This can be done by decorating with unique lighting, photos, and posters. Paint is inexpensive and can bring a lot of personality into a space. Wallpaper allows a touch of creativity and provides a focal point for the room.
Add Personality
Make sure that your teen's space reflects their personality. Do you have a sports fan? Display a framed jersey on the wall. A book worm? Include floor to ceiling bookshelves to store all of their favorite books
Fun & Games
Easy access to food, music, and activities is a must. Stock a retro mini-fridge and dry bar for snack breaks. Family favorite card and board games never grow old. If space allows, consider adding a foosball table, ping pong, air hockey, or a pool table.
The Little Things
Don't overlook the small things, such as a charging station for phones and tablets and a whiteboard for scheduling and organizing. A lap desk is useful for distance learning and/or computer gaming.
Are you looking for tips and suggestions for decorating other areas of your home? Please read my recent articles Designing a Child's Room to Grow with Them and Tips for Making Your Living Spaces Feel Larger.