TMD Inspiration
Designing the Perfect Guest Room
1350 Beverly Road, Suite 115
PMB 143
McLean, VA 22101
Interested in working with us?
Use the contact form to tell us more about your project. Someone will get back to you within 48 business hours.
Creating inspired interiors for discerning clients since 2003. Accepting clients in DC, Virginia, Maryland, and select cities throughout the United States.
Designing the Perfect Guest Room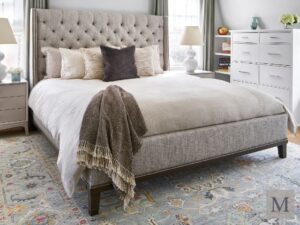 Have you ever had to scramble to accommodate last-minute overnight guests? If you have, you can probably understand the level of comfort and convenience having a dedicated guest bedroom provides for both you and your guests. When designing a guest bedroom, I like to think about what I have enjoyed when staying at luxury hotels. Here are some things to consider when designing the perfect guest bedroom.
Color Palette
Choosing the perfect paint color for your guest bedroom doesn't have to be a stressful process. Like any other room in the home, consider the amount of natural lighting the room receives, how the lighting changes throughout the day, the size of the room, and any interesting architectural details (such as dormers or a tray ceiling). The paint color should also blend with the other rooms within your home.
Lighting
As far as artificial lighting, I like to include two types in any bedroom: ambient and task. Ambient lighting is used to uniformly light up the entire room. The primary purpose of ambient lighting is to ensure safe and easy movement within a space. I like to have a dimmer switch for the ambient lighting in the bedroom. Task lighting helps to illuminate a specific task, such as reading. In this case, brighter light is required in a smaller focal point of the room for these tasks.
Privacy
Don't forget window coverings. Anything goes in the guest bedroom: drapes, blinds, or shutters. Opt for neutral colors like gray, tan, or blue that complement the rest of the space. These colors help set the stage for a relaxing, calming space.
A Comfortable Bed
The key to a comfortable night's sleep is a high-quality mattress. While it may be tempting to skimp on a mattress that is not routinely used, don't. Most mattresses have an expected lifespan of eight to ten years—so the upfront investment is worth it. Once you have chosen a mattress, add luxurious bedding such as a featherbed mattress topper, crisp white bed sheets, a cozy down comforter, a choice of pillows, and extra blankets. Finally, have an extra set of bed linens available for your guests.
Furniture
Like any bedroom, a guest room should have a dresser, bedside table, and a comfortable place to sit and relax. You may also want to consider investing in a luggage rack so that guests have a place to put their bags. Luggage racks are easy to fold up and store when not in use, or they can be topped with a tray to use as an occasional table.
Special Touches
Many little things can make a guest feel at home, such as a small vase of flowers, a candle, or a collection of "must-read" books by local authors. I like to also include a little note with our WiFi password and any other essentials that my guests may need while staying with us.
The key to designing the perfect guest bedroom is to make your home more comfortable and convenient for guests. Additionally, a well-designed guest bedroom can add value to your home. Please contact me today if you would like to discuss turning your guest space into luxury accommodations.