TMD Inspiration
1350 Beverly Road, Suite 115
PMB 143
McLean, VA 22101
Interested in working with us?
Use the contact form to tell us more about your project. Someone will get back to you within 48 business hours.
Creating inspired interiors for discerning clients since 2003. Accepting clients in DC, Virginia, Maryland, and select cities throughout the United States.
Designing a Smarter Home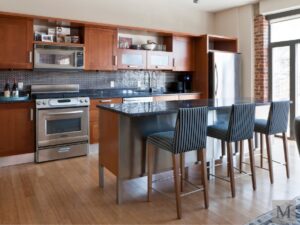 Over the last few years, there has been an increased interest in designing smarter homes. This has, for the most part, come from the growth in technology that has revolutionized our world and added convenience to our daily lives. Connectivity and remote access have become more of a necessity rather than a want, with more than 58 percent of Americans currently working from home. The pandemic has forced people to spend more time in their homes while managing the demands of their jobs and their homes.
One of the most popular areas to incorporate smart technologies is in the kitchen. Over the past several years, homeowners have become more reliant on technological innovations in the kitchen to help with tasks such as cooking, storing, and cleaning up. Smart refrigerators, with the ability to sense and track the products that are being stored inside as well as remember grocery lists and recipes, have been available for years. In addition, as homeowners and designers have become more aware of ergonomic kitchen design, appliance drawers have become more popular. When placed at bench height, there is no longer a need to bend down to add rinse aid or a detergent pod to the dishwasher or to reach overhead to use a microwave oven.
Before designing a smart room or whole house, I like to ask my clients to consider what types of technology they would like to incorporate. Here are some questions to ask:
How do you visualize using each room and what role does technology play?
How will your house function as a whole?
Are you interested in integrating different systems; for example, would you like your window blinds to be connected to the lighting system?
Do you plan to live in your home for the foreseeable future? If so, how will your changing needs be met?
Once these questions are answered, here are a few additional elements to consider when creating a smart home:
Infrastructure. A smart home relies on infrastructure, which includes data cables to provide Internet, speaker cables for audio, etc. Because the cables need to be designed and installed properly, it is best to incorporate this infrastructure into a renovation or new-build design.
Connection. A good connection is one of the most important attributes of a smart home, especially when working from home. One way to ensure a good connection is having hubs (for example, Wi-Fi and Bluetooth) that enable centralized control and management in place.
Wireless Remote Control. A wireless remote control will control your home through a wireless medium, making your experience efficient, secure, and comfortable while saving energy. If all the devices in your home are remotely controlled, it reduces the energy spent on them.
Touchless Technology and Voice-Recognition. Everything seems to be going "touchless" these days. The expansion of touchless technology and voice-recognition technology is shifting into high gear as the need for contactless methods grows during the pandemic. Besides helping to hinder germ spread, touchless technology has been helpful in saving time and energy as well as increasing efficiency.
Please contact me today if you would like to discuss designing a smart home.