TMD Inspiration
Designing a Nursery Your Baby Can Grow Into
1350 Beverly Road, Suite 115
PMB 143
McLean, VA 22101
Interested in working with us?
Use the contact form to tell us more about your project. Someone will get back to you within 48 business hours.
Creating inspired interiors for discerning clients since 2003. Accepting clients in DC, Virginia, Maryland, and select cities throughout the United States.
Designing a Nursery Your Baby Can Grow Into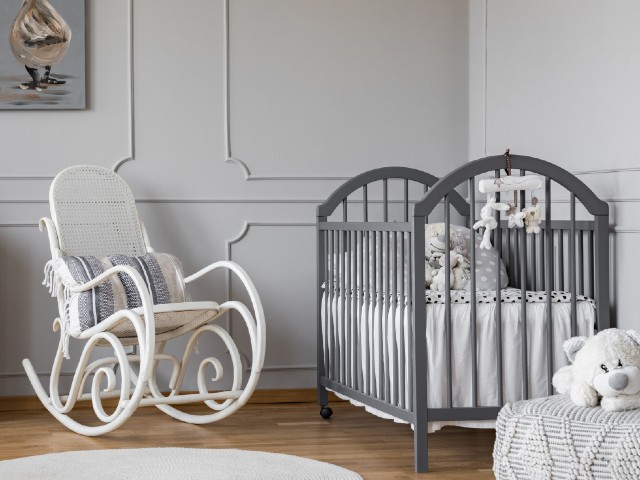 A nursery is as much your space as it is your baby's. A stimulating environment gives them a fantastic start to life and should also align with your needs as a parent. My approach to designing a nursery is the same as designing a space for any other area in the home. I begin by asking my clients to consider how they envision the space functioning for the first several years and as their child grows. Here are several things to consider when designing a nursery:
The Basics
Traditionally, we think of a nursery as a space with a gender-specific color scheme and cute décor. However, I recommend starting with neutral walls and window treatments that allow more flexibility as the baby grows. I love adding in pops of color with artwork and a unique area rug: these items make the room feel more playful. Wallpaper or wall decals are all fantastic ways to personalize a space. Added bonus; all these items are easily removed and replaced as the child grows and their personal interests develop.
Plenty of Storage
Furniture and storage items should be neutral and reusable as well. For example, when shopping for a changing table, choose a design that gives you easy access to all you need—open shelves and uncomplicated doors are a must. But also think ahead; how can this piece be used in the future? As your baby enters toddlerhood, toy storage will become essential. Bins and baskets for toys can be placed on the shelves that once stored diapers and wipes. Study shelves are imperative for book lovers, and a well-designed closet will grow with a child over the years. I always recommend spending a bit more on a few pieces that will take your baby through childhood.
Adult Seating
Parents and caretakers will be spending a lot of time bonding with the baby in their first weeks and months. Good seating gives tired arms, legs, and back the best chance of surviving the physical trials. Most parents prefer a chair that can rock or recline to help with soothing the little one. Some swear by footstools. Choose a piece that will be useful somewhere else in your home when your baby outgrows their nursery.
Layout
Every individual piece of furniture is important, but it should all come together holistically with the right arrangement. It is easy to go overboard and fill the nursery with everything you envision your baby needing. However, make sure you have enough open space for the baby to play and explore once they are crawling. A large, cozy area rug not only pulls the room together but also offers a soft spot for babies and parents alike.
Monitoring
Finally, when you find a moment to leave the nursery, you would still want to know immediately when your baby needs you. Many of today's baby monitors feature two-way audio so you can talk to your baby when needed as well as the ability to control the temperature in the room. They also come with custom apps providing details about your baby's sleep patterns.
Are you planning on designing a nursery in the near future? We would love to discuss your plans; contact us today!