TMD Inspiration
Designer Tips for Room Layout
1350 Beverly Road, Suite 115
PMB 143
McLean, VA 22101
Interested in working with us?
Use the contact form to tell us more about your project. Someone will get back to you within 48 business hours.
Creating inspired interiors for discerning clients since 2003. Accepting clients in DC, Virginia, Maryland, and select cities throughout the United States.
Designer Tips for Room Layout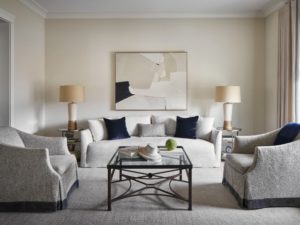 Whether you are decorating a room from scratch or would like to do a little furniture re-arranging this weekend, it is always best to start with a design plan in mind. After you have selected paint color, flooring, and window treatments for your room, the fun can begin! However, before you do any heavy furniture lifting, consider the following professional room layout tips.
Start by defining the space's purpose. Is this your primary space for entertaining? Do you have a large space that serves multiple purposes? Are you working from home and need an office space? I always like to begin by asking questions such as these … sometimes the answers are unexpected!
Then define your space with area rugs. There is no easier way to transform a room than by adding an area rug. They add color and character to your home. The size of the area rug is very important – too small, and the rug appears to be unanchored in the room. I always like to have all the furniture sitting on the rug, so the space feels filled, and no furniture is uneven. If your space is an unusual shape you can have rugs cut to follow the shape of the space.
Consider your furniture needs. Now that you know how you want your space to function, make a list of items that you have and items that you need. For example, if your living room serves primarily as a place to entertain, you will probably want to maximize seating and create smaller conversation areas. If your dining room has become a temporary home office, you may want a small desk and extra lighting. Everyone's needs are different, and those needs change over time.
Make sure that the scale is correct. When furnishing smaller spaces, choose pieces that are streamlined in terms of shape (not necessarily smaller in scale). Consider the depth of the chair or couch. Does it fit with the proportions of your room? A good rule of thumb for smaller spaces is to look for apartment sized pieces.
Come together, not apart. Many people try to make a room look bigger by pushing furniture up against the wall. This can actually make the room feel like a tighter squeeze. Furniture generally looks much better pulled away from the edges of a room. Also, remember that you don't need to fill every inch of space in the room.
Create a sense of symmetry. In an essay called "The Symmetrical Universe," physicist Alan Lightman explores why we, as humans, are drawn to symmetry. He writes that "Symmetry is simplicity. Symmetry is elegance." In fact, symmetrical design is often viewed as more pleasing because our brains don't have to work to figure out the use and flow of the space. If you want to create an oasis away from the outside world, symmetry in design is key.
Are you looking for more pro design tips? Please see my articles Tips to Make Your Living Space Feel Larger, Making an Old House New Again, and Common Design Mistakes and How to Avoid Them.