TMD Inspiration
Creating Your Dream Bathroom
1350 Beverly Road, Suite 115
PMB 143
McLean, VA 22101
Interested in working with us?
Use the contact form to tell us more about your project. Someone will get back to you within 48 business hours.
Creating inspired interiors for discerning clients since 2003. Accepting clients in DC, Virginia, Maryland, and select cities throughout the United States.
Creating Your Dream Bathroom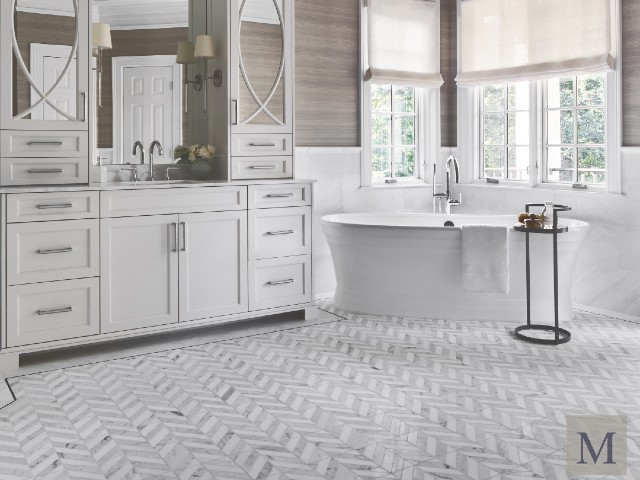 Are you thinking about upgrading or creating your dream bathroom? Nothing makes more of an impact on your bathroom than deciding between a shower and a bathtub. Make sure you know the ins and outs of the bathroom renovation debate to guarantee you invest in the fixture that will best suit your needs.
Resale Value
The cost and return on investment are very important factors to consider when deciding between a tub and a shower. Appealing to home buyers is the primary goal of achieving a high resale value. Walk-in showers are a hot commodity, with 63 percent of homebuyers in a survey by the American Institute of Architects expressing wanting one in their homes. Doorless and curbless showers are also popular due to their sleek design and accessibility.
On the other hand, bathtubs are also an important resale factor in any home. According to a study by the National Association of Home Builders in 2021, 72 percent of first-time home buyers rated a shower stall and bathtub in the primary bathroom as "essential." Additionally, bathtubs are an attractive feature for parents with young kids, who are easier to bathe in a tub.
It is also essential to consider the other bathrooms and the layout of your home. A shower might increase space and value if you live in a smaller home with a single bath. However, if you remove all the bathtubs from multiple full baths, your home may lose value.
Convenience and Accessibility
In addition to resale value, factoring in your lifestyle is an essential factor when deciding. A bathtub might be the right choice if you are looking for a more luxurious option. But if you prioritize speed and efficiency, a shower might work best. Additionally, a walk-in or curbless shower might be a great option if you or another house member has mobility problems.
Relaxation
Besides hygiene, one of the main reasons to use your shower or tub is to be able to relax and soothe your muscles. A bathtub with jets where you can soak in hot water is a great way to relieve soreness.
Water Use
If water use is an important factor for you, showers might be the right choice. Showers use less water with an average of 20 gallons, compared to an average 30-gallon bath.
Space
Space is one of the main differences between showers and bathtubs, with showers taking up significantly less space than bathtubs. However, baths can come in a variety of styles and sizes and can sometimes be built into the wall.
Still Not Sure, Why Not Both?
If you're unsure what to choose, why not go for both? According to a recent survey, the most sought-after feature was a combination in the master bath, with 36 percent of surveyed respondents citing that they would reject a home if it didn't have this characteristic.
Are you building your dream home? Visit the "Creating Your Dream Home" section on my website for more inspiration!