TMD Inspiration
Creating the Perfect Home Gym
1350 Beverly Road, Suite 115
PMB 143
McLean, VA 22101
Interested in working with us?
Use the contact form to tell us more about your project. Someone will get back to you within 48 business hours.
Creating inspired interiors for discerning clients since 2003. Accepting clients in DC, Virginia, Maryland, and select cities throughout the United States.
Creating the Perfect Home Gym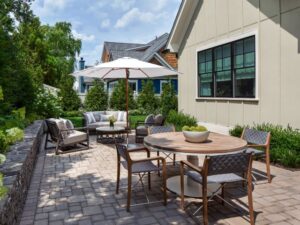 Over the past year, our homes have accommodated a variety of activities that had previously taken place elsewhere – including the quest to stay healthy and fit. Even as local gyms are opening, many Americans are choosing to shift to at-home workouts. According to Forbes, a recent survey shows that nine out of ten Americans who exercise regularly will continue with at-home workouts even after they feel comfortable returning to a gym.
If you are one of those who don't plan to go back to the gym, consider creating a home gym. Aside from the myriad of health benefits, a home gym also offers great time savings and a built-in incentive to use the space. The thought of walking to your private workout studio, rather than having to drive to the gym or workout during lunchtime at work, appeals to many people. Also, if designed properly, a home gym can become a great space for the entire family to enjoy. The goal is to create a space that can become a favorite room so that you want to spend time there. It should also be an attractive space that fits seamlessly into your home.
Gone are the days of a workout bench and free weights in the corner of a basement. Sales of health and fitness equipment skyrocketed in 2020, with revenue nearly doubling to $2.3 billion between March and October according to the Washington Post. Today's home gym combines specialized equipment (such as Peloton bikes and Mirror systems) with a level of finish and lighting equal to that found in everyday living spaces. Cork or rubber flooring are popular choices; it is gentler to feet and legs and adds a layer of soundproofing to the space. Some homeowners are going as far as designing home gyms with a yoga studio or relaxation room as a place to hang out between or after exercise sessions.
Another popular choice for a home gym is an annex building located on your property. A repurposed shed or an added prefabricated structure can easily be designed as a workout space. These structures can also allow for specialized lighting, plenty of lateral floor space, and large windows for ventilation and/or beautiful views. These outbuildings can seamlessly blend into the existing garden and offer a chic atmosphere, like that of a private spa, and tied into an existing outdoor pool and hardscape area.
If you don't have the physical space for a home gym—either in your main home or an annex building—consider an outdoor workout space. Outdoor training has become increasingly popular over the past several years, and it is incredibly easy to take part in thanks to outdoor workout apps. There is nothing quite like fresh air and a good workout to improve your mood and overall fitness.
Wherever you choose to do you workouts I always recommend leaving plenty of space around your equipment as well as some open area for stretches and other workouts. While the footprint of many pieces of equipment is small sometimes, they require a larger working area. I always make sure to have plenty of air circulation in the space to keep cool, this can be through windows or fans added. And if you really want to take your home gym to the next level add a mini fridge so you always have cool drinks to keep you hydrated!
Please contact us today if you are considering adding a home gym to your current home or incorporate one into a new build.