TMD Inspiration
Creating a More Functional Kitchen
1350 Beverly Road, Suite 115
PMB 143
McLean, VA 22101
Interested in working with us?
Use the contact form to tell us more about your project. Someone will get back to you within 48 business hours.
Creating inspired interiors for discerning clients since 2003. Accepting clients in DC, Virginia, Maryland, and select cities throughout the United States.
Creating a More Functional Kitchen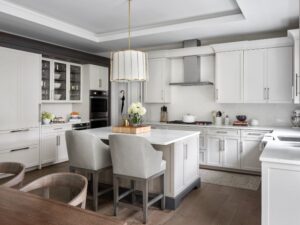 The kitchen has always played a pivotal role in our homes. It is the hub of not only cooking and gathering, but of day-to-day family life. From a simple galley style to a U-shaped kitchen with a double island, homeowners should take into consideration several factors to maximize functionality of their kitchen including: traffic flow, the distance between main fixtures (i.e. cabinets and island, appliances, etc.), sink and stove/cooktop location, and storage requirements. In addition to these traditional considerations, we are currently seeing some trends that could help to increase the functionality of the kitchen functionality in your home.
New Zoning
As discussed in my recent article The End to the Open Floor Plan?, a lifestyle shift due to the Covid-19 pandemic has illuminated some serious design flaws of an open floor plan. Gone are the days when we had one common space for work, social interaction, play. Instead, we are creating zones for different functions. We are seeing this impact kitchen design specifically. Freestanding furniture, cabinetry, and screens can be used to create distinct zones intended for activities such as cooking, working, and entertaining small groups. Over-sized or double islands can also be used to create more functionality in kitchen design.
Home Office
One of the zones you may want to create within your kitchen is a home office. A dedicated space for paying bills or organizing family activities is no stranger to the kitchen. Today's home office is an extension of that idea—a separate, comfortable space for work or study complete with filing and storage solutions, charging stations, and plenty of light.
The Functional Panty
According to a recent Wall Street Journal article, the "walk-in kitchen pantry is the new designer shoe closet." There is no doubt that the kitchen pantry is in the spotlight and is a must-have in terms of kitchen functionality. Plenty of storage space at an arm's reach is made easier with customized shelving for canned items, special glass storage jars for cereals and baking supplies, and baskets/bin for easy storage of boxed items. An added bonus of a large pantry: it frees up space in floor and wall cabinets for other essentials.
A Smart Kitchen
Over the past several years, homeowners have become more reliant on technical innovations in the kitchen to help with tasks such as cooking, storing, and cleaning up. Smart refrigerators, with the ability to sense and track the products that are being stored inside as well as remember grocery lists and recipes, have been available for years. As homeowners and designers have become more aware of ergonomic kitchen design, appliance drawers have become more popular. When placed at bench height, there is no longer a need to bend down to add rinse aid or a detergent pod to the dishwasher or to reach overhead to use a microwave oven.
Add a Personal Touch
Finally, and perhaps most importantly, the trends and innovations mentioned above have created "found" space in which you can let your personality shine in your kitchen. For example, instead of choosing white subway tile for a backsplash, select a hand-painted ceramic tile in a unique pattern that adds an unexpected homey touch. Displays of china and glassware in glazed cabinets or open shelving add a touch of personality—and are easier to use and store.
Pulling it All Together
At Tracy Morris Design, we spend a lot of time with our clients during the planning stages of any design project. Part of that process includes the production of in-depth CAD (computer-aided design) layouts in which homeowners can actually see and evaluate the functionality of their kitchen before entering the next stages of the project. As always, please contact us today to discuss our design process, including making your kitchen