TMD Inspiration
Color Schemes for Dark Spaces
1350 Beverly Road, Suite 115
PMB 143
McLean, VA 22101
Interested in working with us?
Use the contact form to tell us more about your project. Someone will get back to you within 48 business hours.
Creating inspired interiors for discerning clients since 2003. Accepting clients in DC, Virginia, Maryland, and select cities throughout the United States.
Color Schemes for Dark Spaces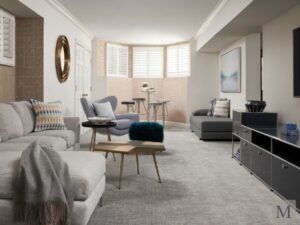 We all have that space in our homes; a dark room that seems nearly impossible to design. However, with a few simple suggestions, the dark space can come to life. As with any design project, I like to begin the process by asking a few questions:
Why is the space dark? Does the space receive little natural light because it is below ground (a basement) or lacks windows (such as a powder room)? Or maybe it is a north-facing room, or the windows are blocked by other buildings or landscaping. The answer to this question may impact how we can make the space feel lighter.
What is the size, shape, and purpose of the room? The size and shape of the space make a big difference. For example, the design for a dark bedroom is very different than a dark hallway or a powder room.
Once these questions are answered, I work with my clients to make the dark space more welcoming. Paint is one of the most effective ways to transform a room—and color selection for dark spaces is perhaps the essential piece to the puzzle. While it is a natural instinct to paint the walls of a dark room the brightest color you can find, this is actually the wrong choice.
Like many homeowners, I love a bright white room. There is something special about a fresh coat of crisp, white paint. It is clean and offers a completely blank palette. However, when choosing a paint color for dark spaces, white does not work. A bright white room seems so bright and airy because the paint color reflects the natural light. In a dark room, white can seem flat and, ironically, make the space seem even darker. In this case, the best color is a warm-toned neutral color. Colors such as Benjamin Moore's Manchester Tan (HC-81) and Smokey Taupe (983) in a semi-gloss finish are great choices. If you are looking for a non-neutral color, choose brighter colors to add some light. Colors such as a soft, dusky lavender or a bright orange may be a perfect choice for a dark room.
Once you have chosen the paint color for your dark space, it is time to accessorize. Here are some suggestions when furnishing the space:
Furniture should be made of a light-tone wood with white, ivory, or beige upholstery. A transparent acrylic coffee table or side table also helps to brighten the room.
If you have read my previous posts, you know I love a great area rug. They not only add personality but also help to define living areas within a space. When choosing an area rug for a dark space, select a light-colored rug that will make your floors glow.
Add ambient light sources, such as fairly lights, orb lights, or candles with a warm, yellow light. Ambient lighting can help to create a warm, cozy feeling in any room.
Expand the visual space within a dark room by placing mirrors close to light sources. For example, a large floor mirror placed near a small window can help to amplify the light and depth to the room.
Do you have further questions about designing and furnishing your dark spaces? Please contact me today to discuss more options.