TMD Inspiration
Choosing the Right Floor Stain Color for Your Home
1350 Beverly Road, Suite 115
PMB 143
McLean, VA 22101
Interested in working with us?
Use the contact form to tell us more about your project. Someone will get back to you within 48 business hours.
Creating inspired interiors for discerning clients since 2003. Accepting clients in DC, Virginia, Maryland, and select cities throughout the United States.
Choosing the Right Floor Stain Color for Your Home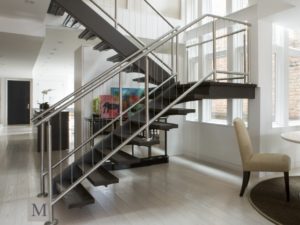 When it comes to designing your home, one of the most important (but often overlooked) choices is the type of flooring to use. As we discussed in our recent article Choosing the Proper Flooring for Your Space, the right flooring combines practicality and style to create the best foundation for your interior design. If you choose to go with hardwood flooring, there is a second, equally important decision to consider – what color of stain to use.
Though sometimes daunting, choosing the color of stain can be an exciting process. Here are several things to consider:
What is your style?
If you are planning on painting your walls a neutral color, a dark floor can add a lot of contrast and create a dramatic effect. Dark floors tend to be more modern and provide a perfect backdrop to a favorite area rug. On the other hand, hardwoods stained a lighter color tend to reflect light. This makes spaces feel lighter and airier.
Do you have children and/or pets?
As a general rule; the darker the floor, the more it will show dirt and dust. Light floors tend to "hide" food crumbs and debris better than their darker counterpart. However, if you have a long-haired black dog or cat, darker floors may be a better choice.
How is the lighting in the space?
Direct sunlight can take a toll on your flooring. If your room receives bright sunlight, consider going a shade or two darker than the stain color you select.
What is the type of wood being used?
Flooring comes in a variety of types, including soft woods (such as pine and birch) to hard wood (white and red oak). Not only does the hardness effect how a wood will accept stain (harder woods tend to accept stains better and more evenly) but also the natural color of the wood.
Are you concerned about the resale value of your home?
Use a classic color stain if you plan on putting your home on the market in the near future. If you are looking to make a statement, however, choose the stain color that speaks to you. Remember, nothing is permanent – hardwood floors can always be refinished.
After taking the above points into consideration, it is always advisable to do a test of stain colors. This is the best way to gauge how a certain stain will look in your specific space given lighting, openness of the room, and width of the floorboards. There are two ways to do this: 1) apply the stain to the actual floor or 2) buy a few floor boards (make sure you purchase the same type of wood), apply the stain samples to those, and place in your space.
Although choosing the proper stain for your hardwood flooring may seem intimidating, please know that the team of professionals at Tracy Morris Design is always available to guide our clients in their design choices.