TMD Inspiration
Choosing the Proper Flooring for Your Space
1350 Beverly Road, Suite 115
PMB 143
McLean, VA 22101
Interested in working with us?
Use the contact form to tell us more about your project. Someone will get back to you within 48 business hours.
Creating inspired interiors for discerning clients since 2003. Accepting clients in DC, Virginia, Maryland, and select cities throughout the United States.
Choosing the Proper Flooring for Your Space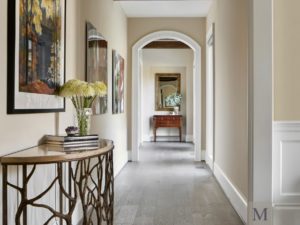 When it comes to improving your home, picking the proper flooring is an essential, but often difficult decision. The right flooring combines practicality and style to create the best foundation for your interior design.
As the groundwork to your space, flooring must be durable; picking the appropriate materials will ensure a long lifespan. From a design perspective, floors should stand the test of time. Unlike changeable elements such as furniture or decor, floors are permanent in the home and will have a major impact on the look and feel of your space.
Before choosing a material, ask yourself these questions:
Does the material's durability match the level of use its room will receive?
Do you know how to properly maintain the flooring to keep it looking its best?
Does the flooring match the style of your home?
Will it create the atmosphere you are looking for in a room?
Keeping these questions in mind, here are the materials we recommend for spaces in your home:
First Floor
The first floor of a home is often where cooking, entertaining, working, and relaxing take place. It is essential that flooring in these living areas is versatile. Hardwood is an ideal material throughout, since it is easy to clean and long-lasting. The classic flooring option can also be refinished multiple times to suit your home.
Bathrooms
The major factor to consider when choosing bathroom flooring is its susceptibility to moisture. Thanks to modern engineering and technology, there are many more choices available today in bathroom flooring than there were in the past. Today's bathroom flooring is highly durable, water resistant, and can stand up to almost anything, including children and pets. Appropriate choices include ceramic and porcelain tile, or natural stone.
Bedrooms
Of all the flooring materials, carpeting creates a warm atmosphere which makes it a prime option for bedrooms. There is a wide range of piles to choose from to complement each space. If carpeting doesn't appeal to you, hardwood is an alternative; area rugs can always be utilized to supplement softness underfoot.
Mudroom
In a space bound for frequent foot traffic and dirty shoes, the ability to easily clean the floor is essential. Tile is a hard-wearing material that resists scratches and stains. The material also comes in every size and design imaginable, meaning you can bring more character into the space. Large format porcelain tiles are always a great choice for a crisp look that is easy to clean.
Although choosing flooring for your home may seem daunting, please know that the team of professionals at Tracy Morris Design is always available to guide our clients in their flooring choices.