TMD Inspiration
Choosing the Perfect Material for Furniture Cushions
1350 Beverly Road, Suite 115
PMB 143
McLean, VA 22101
Interested in working with us?
Use the contact form to tell us more about your project. Someone will get back to you within 48 business hours.
Creating inspired interiors for discerning clients since 2003. Accepting clients in DC, Virginia, Maryland, and select cities throughout the United States.
Choosing the Perfect Material for Furniture Cushions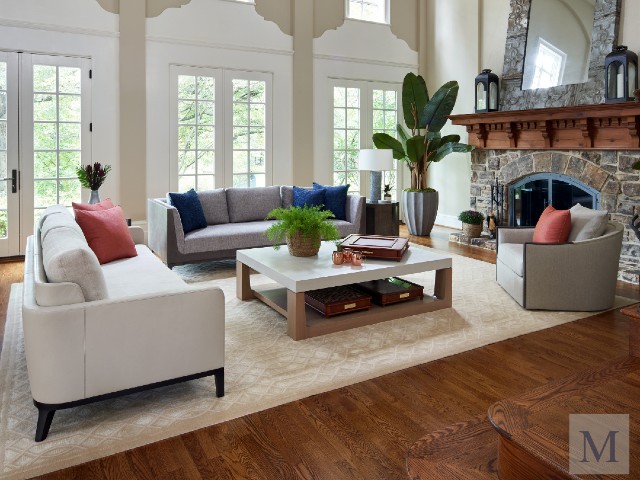 A couple months ago, I had a conversation with a client about cushion material for her outdoor furniture. Her goal was to use white fabric for the cushions on her chairs and sofa. When I brought in a blue-toned fabric to use as an accent pillow, she looked at me longingly and said she wished she could use the pattern on the cushions. After continuing our conversation, I learned that she had been advised to use only white for outdoor cushions because they brighten any space. While it is true that white makes spaces look lighter and brighter, you can never go wrong with a well-made, timeless fabric of any color.
Texture, weave, and cleanability are also key elements when discussing cushion materials. In this article, I would like to discuss the things that should be taken into consideration and to make sure you're getting the most mileage out of your investment. The material must last and suit you, your home, and your lifestyle for years to come.
Furniture is an investment. Whether it is an end chair for your formal living room or a chaise lounge for your patio, all furniture is a long-term investment. That is why I recommend to my clients that they purchase the best-constructed piece that they can afford. The furniture, including cushion material, should last you years to come. When shopping for an upholstered sofa or chair, it is important to not only consider the color or style, but also the upkeep. In my article Caring for Your Upholstery, I offer tips and tricks for maintaining a variety of materials.
Choosing the perfect fabric. Selecting the right fabric to use on your furniture – and making sure it reflects your lifestyle – is critical. Natural materials (such as linen, cotton, wool blend, and leather) are all very popular choices. Natural materials generally last longer than synthetics and are more environmentally friendly. Synthetic fabrics (such as polyester, microfiber, and solution-dyed acrylic) are more durable and stand up to wear-and-tear much better. I highly recommend solution dyed acrylic for outdoor cushions, pillows, and accessories. They are water-resistant, colorfast, easy to wash, and aren't prone to mold. Please see my article TMD's Guide to Fabric Choices for the pros and cons of various fabric choices.
Reupholstering a piece. Sometimes I am asked if it is worth reupholstering existing furniture versus purchasing a new piece. Reupholstering is more than just replacing the material; it involves stripping down the furniture to the frame and then rebuilding. It could also include replacing the springs, fixing the frame, or staining the wood. A complete reupholstering job is very labor-intensive. Please see my article When to Reupholster Versus Buying New to evaluate if a piece is worth the investment.
You can never go wrong with a well-made, timeless fabric. Don't hold back; ultimately, it comes down to your personal tastes and lifestyle. I always say, "If you love something, do it!" Please contact me today if you would like to partner together.