TMD Inspiration
Choosing an Exterior Paint Color
1350 Beverly Road, Suite 115
PMB 143
McLean, VA 22101
Interested in working with us?
Use the contact form to tell us more about your project. Someone will get back to you within 48 business hours.
Creating inspired interiors for discerning clients since 2003. Accepting clients in DC, Virginia, Maryland, and select cities throughout the United States.
Choosing an Exterior Paint Color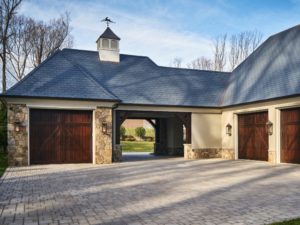 Paint color says a lot about a home and its owners. For example, according to a study from the UK, 33 percent of people living in purple and pink houses send their children to private schools, while only 14 per cent of people in magnolia houses educate their children privately. Perhaps the biggest revelation was that people living in blue houses are more "successful" than those in houses of any other color. Choosing an exterior paint color can be one of the most difficult – and important – decisions a homeowner can make. Here are some things to consider:
Know the "Rules"
Does your neighborhood have any restrictions in terms of exterior paint color? In some neighborhoods, homeowners must go through their homeowner's association (HOA) for approval before an exterior paint project can begin. Guidelines, approval process, and requirements tend to vary for one HOA to another – so know the "rules" beforehand.
Consider the Environment
The exterior color you choose for your home should be pleasing to the eye and work well with the landscaping and overall aesthetic of your home. Take into account the roof color as well as the color of brick and stonework used in certain areas of the home.
Brick: To Paint or Not to Paint
Speaking of painted brick, there are many opinions about the subject. While painting brick can offer a clean look and a perfect way to overhaul a boring or dated home, there are several pros and cons to consider. One pro is that painting is an easy way to increase a home's curb appeal – you can easily refresh old orange or yellow brick that looks dated and create drama with a dark color or a go classic white for a crisp clean look. However, you will want to be sure your committed to regular upkeep and repainting every five years or so.
Choosing a Color
For many homeowners, the daunting task of choosing an exterior color is a huge turnoff. However, by following these simple steps, you can demystify the process.
Choose a shade. Do you want a light or white color, a mid-tone or medium shade, or a dark color?
Consider the roof color. If your roof is a neutral color (such as black or grey), you don't have to worry about the exterior paint color clashing. However, if the shingles have an undertone (such as brown, red, or blue), you will need to factor this into color as you choose your exterior paint color palette.
Add warmth. Over time, exposure to natural daylight will drastically turn your exterior color cooler (blue). When choosing the exterior color, go a shade two the three times warmer than the original sample color you like.
Be Open-Minded. To find the perfect shade, test multiple colors in multiple places on your home's exterior. There are so many variables to consider, including which direction your home is facing and how much shading your home has. Look at the samples at in the morning, mid-day, and dusk before choosing the final exterior color.
Less is More. Once you have made a firm decision on the main exterior body paint color, it is time to move on to trim and accent colors. I encourage homeowner's to choose a single trim and accent color; this allows the beautiful architectural elements of the home to stand out. Also, remember that stained wood trim and stone are colors as well.
An Alternative: Limewash
Limewash is a technique that has been around for ages and adds an old-world, European look to your home. Instead of sitting on top of the brick and creating a barrier, limewash penetrates the brick. For this reason, it will not peel off like normal paint meaning less maintenance and natural wear and aging will be less noticeable. However, there is one caveat: limewash needs to be used with a specific kind of brick since the color of the bricks will be partially visible.
Are you considering a large-scale exterior design project? Please contact me if you have any questions or visit the Design Tips section on my website for more ideas.