TMD Inspiration
Caring for Your Upholstery
1350 Beverly Road, Suite 115
PMB 143
McLean, VA 22101
Interested in working with us?
Use the contact form to tell us more about your project. Someone will get back to you within 48 business hours.
Creating inspired interiors for discerning clients since 2003. Accepting clients in DC, Virginia, Maryland, and select cities throughout the United States.
Caring for Your Upholstery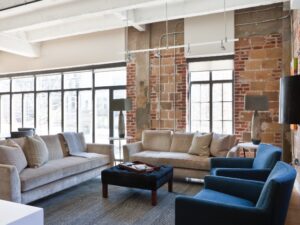 Furniture is a long-term investment. When asked, my recommendation is to always purchase the best-constructed piece that will serve you well for years to come. When shopping for an upholstered sofa or chair, it is often the color or style that catches a buyer's attention first. However, it is also important to consider maintenance needs. Once you have made the investment, it is imperative that you care for your furniture.
Before undertaking any cleaning regime, consider the type of material your upholstery is made of. Popular choices include natural materials (such as cotton, linen, wool, silk, and leather) and artificial materials (such as polyester and acrylic). Regardless of material, please check the label for the universal care code. They mean the following:
W: use only water-based agents and brush and vacuum only when the fabric is dry.
S: use mild solvents and dry-cleaning products which are water-free.
WS: use either solvent and upholstery shampoo or water-based mild detergents.
X: the fabric should only be vacuumed or brushed lightly or professionally cleaned.
All types of upholstery need careful and proper maintenance throughout the lifetime of the piece. Here are two examples of how to care for you upholstered furniture.
Leather: If you prefer contemporary or modern design, leather furniture may be the perfect choice for you. Here are ways to care for leather upholstery:
Vacuum regularly to get rid of dust
Use a soft, clean cloth to wipe it down
Treat it with leather conditioner once or twice a year
Use a dry cloth to wipe all spills immediately
Use cleaning products that are only suitable for leather
Our favorite leather provider, Moore & Giles, offers maintenance tips and products on their website.
Solution-Dyed Acrylic Fabrics: A fantastic choice for families with children and pets, acrylic fabrics. Available in a wide variety of colors, textures, and patterns, this fabric to be water-resistant, colorfast, and soft to the touch. Caring for your solution-dyed acrylic fabrics is very simple:
Using a natural soap and warm water, sponge spots briskly.
Rinse with clean water.
Allow to air-dry.
If stronger products are needed, you may use an all-purpose cleaner – just make sure you don't overspray the spot and you fully rinse the area with clean water. Our favorite solution-dyed acrylic manufacturer, Perennials Fabrics, offers video for care and cleaning of their products.
While it is important to take regular care of your upholstered furnishings, it is equally important that you use the proper care for your fabrics. Please make sure you are following the manufacture's recommendations. If you have any further questions, please don't hesitate to contact us or to review the following articles: